The 3rd DBCLS BioHackathon: improving life science data integration with Semantic Web technologies
Journal of Biomedical Semantics
2013
4:6
Received: 13 September 2012
Accepted: 5 February 2013
Published: 11 February 2013
Abstract
Background
BioHackathon 2010 was the third in a series of meetings hosted by the Database Center for Life Sciences (DBCLS) in Tokyo, Japan. The overall goal of the BioHackathon series is to improve the quality and accessibility of life science research data on the Web by bringing together representatives from public databases, analytical tool providers, and cyber-infrastructure researchers to jointly tackle important challenges in the area of in silico biological research.
Results
The theme of BioHackathon 2010 was the 'Semantic Web', and all attendees gathered with the shared goal of producing Semantic Web data from their respective resources, and/or consuming or interacting those data using their tools and interfaces. We discussed on topics including guidelines for designing semantic data and interoperability of resources. We consequently developed tools and clients for analysis and visualization.
Conclusion
We provide a meeting report from BioHackathon 2010, in which we describe the discussions, decisions, and breakthroughs made as we moved towards compliance with Semantic Web technologies - from source provider, through middleware, to the end-consumer.
Keywords
BioHackathonOpen sourceSoftwareSemantic WebDatabasesData integrationData visualizationWeb servicesInterfaces
Background
The term Semantic Web refers to those parts of the World Wide Web in which information is explicitly encoded in a machine-readable syntax, and the relationships between entities are explicitly constructed and labeled using machine-readable links. The most significant difference between the Semantic Web and the current World Wide Web is that Semantic Web is intended to be accessed by machines, rather than by people. As such, it concerns itself primarily with the structured representation of data and knowledge in ways that can be automatically interpreted and traversed without human intervention. This should therefore support more complex, cross-domain, and cross-resource investigations by putting the burden of data discovery and integration on the machine, rather than on the individual.
Until now, complex cross-domain querying has tended to only be supported by large-scale data warehouses, including BioMart [1] and InterMine [2]. However, these can only respond to questions within the confines of the data collected in that warehouse. By simplifying and automating dynamic and distributed data discovery and integration, the Semantic Web should encourage a researcher's curiosity and support them in pursuing "spontaneous" questions outside of the scope of existing and pre-constructed data warehouses.
Early-adopters of Semantic Web technologies have put together demonstrations showing its power over traditional data and knowledge frameworks. Among the most prominent of these early-adopters have been the life and health science communities [3] where numerous Linked Data initiatives have emerged. Notable examples include the Semantic Web Healthcare and Life Science Interest Group (HCLSIG) with their creation of the Clinical Observations Interoperability demo [4] and Linked Open Drug Data demo [5]; and the Bio2RDF project [6, 7], which integrates more than 50 biological databases into a Linked Data environment. While these motivational projects demonstrate the power of Linked Data [8], the warehouse approach they adopt, which ensures data consistency, avoids the desirable and intended distributed nature of the Semantic Web. The next step in the Semantic Web evolution involves the source providers themselves making their resources available as Linked Data. This was the theme of BioHackathon 2010 - to our knowledge the first time in the life sciences that such a large group of non-affiliated data providers, cyber-infrastructure projects, and client-application projects have come together for this purpose.
We use the terms "Linked Data" and "Semantic Web" to refer to two different aspects of the construction of a distributed web of data and knowledge, and it is useful to go into some detail about how each layer contributes to the overall vision of machine-readable data and knowledge.
Linked Data refers to data exposed on the Web following a particular set of technologies and conventions aimed at improving mechanized access and processing. For example, in Linked Data, Uniform Resource Identifiers (URIs) are used to refer to all data entities; moreover, by convention and best practice, these URIs should (in general) resolve to additional Linked Data describing that entity, and linking that entity's URI to other URIs using explicitly labeled relationships. These Linked Data conventions provide significant advantages for both data providers and data consumers. First, through naming data by a URI, the means for retrieving that data, regardless of its provider or location, become uniform - defined by the HTTP protocol. Similarly, there is a separation of how data is stored (web pages, flat-files, relational databases, etc.) and how it is accessed and consumed. In much the same way as the HTTP protocol created a uniform access layer for the Web, allowing the creation of generic tools such as Web browsers, Linked Data ensures that, regardless of underlying format, exposed information is uniformly accessible through a common query language - SPARQL. More importantly, Linked Data can also be integrated site-to-site across multiple independent providers via queries that span multiple data-endpoints. Linked Data technologies and conventions, therefore, facilitate data exploration and evaluation by removing the need to design an integrative schema, download, homogenize, and finally warehouse data subsets in order to ask common domain-spanning questions.
The Semantic Web extends the concept of and is built on Linked Data, but is additionally concerned with defining machine-interpretable semantics for entities and relations that might appear in a Linked Dataset. The precise meanings of these concepts and relations are defined in an ontology, and this ontology can be utilized by software called a reasoner to evaluate the data-types and properties within a Linked Dataset against a possible interpretation of that dataset, defined by the ontology. Through this process, the aggregated data is automatically classified or categorized according to the concepts defined by a given ontology - the ontology provides a "view" of the data, and different ontologies can be used to provide differing views, depending on the nature of the study or the question of interest. Moreover, new knowledge can be automatically derived as reasoners detect new instances of ontologically-defined concepts within aggregated Linked Data.
For both biological researchers and data managers, the significance of these new paradigms cannot be over-stated. Laboratories that currently invest significant resources in creating one-off integrated data warehouses, and then manually interpreting them, would be able to create such datasets with a single Web-wide query. Moreover, carefully crafted ontologies could then be employed to automatically classify the resulting integrated data into conceptual categories of interest to that researcher. Beyond keyword searches, or even traditional database queries, Semantic Web technologies facilitate querying datasets at a conceptual level, where the concepts of interest can be defined post-facto, after the act of data query and integration. The ease and low-cost of creating and analyzing such datasets would encourage researchers to re-ask their questions in light of new discoveries or new datasets. Alternately, they may choose to re-formulate their research question as they progress toward a new discovery, in the knowledge that retrieving and integrating additional third-party data into their existing warehouse can be achieved with very little cost. While these kinds of integrative investigations can be (and are being) conducted on the current Web, the current cost and complexity of cross-domain data integration hinders exploration, inhibiting researchers from pursuing their own curiosities.
The goal of the 2010 BioHackathon, therefore, was to bring together data providers and tool authors to discuss the path toward making their resources available using these powerful new integrative standards and frameworks.
Meeting outline
A total of 56 attendees participated in BioHackathon 2010, including representatives from at least 10 major biological databases, major cyber-infrastructure projects such as BioRuby [9, 10], Biopython [11, 12], SADI [13, 14], G-language [15, 16], BioMart and InterMine, and client providers such as Taverna [17], FlyMine [18, 19], Bio-jETI [20, 21], and Cytoscape [22, 23]. The full list of BioHackathon participants, and their respective projects, is available [24].
Many important life science data providers were present at the BioHackathon, including UniProt [25, 26], Korean HapMap [27], TreeBASE [28], DDBJ [29, 30], INSD [30], PDBj [31], KEGG [32, 33], DBCLS [34], IntAct [35, 36], as well as developers of data integration projects including Bio2RDF [6, 7], BioGateway [37, 38], DERI [39], PSICQUIC [40, 41] and the HUPO Proteomics Standards Initiative [42].
BioHackathon 2010 revolved around discussion and hands-on exploration of approaches to structuring life science Linked Data such that it maximizes the power of semantics, while at the same time minimizing the burden placed on data providers. The lessons learned and best practices that emerged from these discussions are detailed below and follow the flow of Figure
1
from designing data through querying to analysis, visualization and browsing.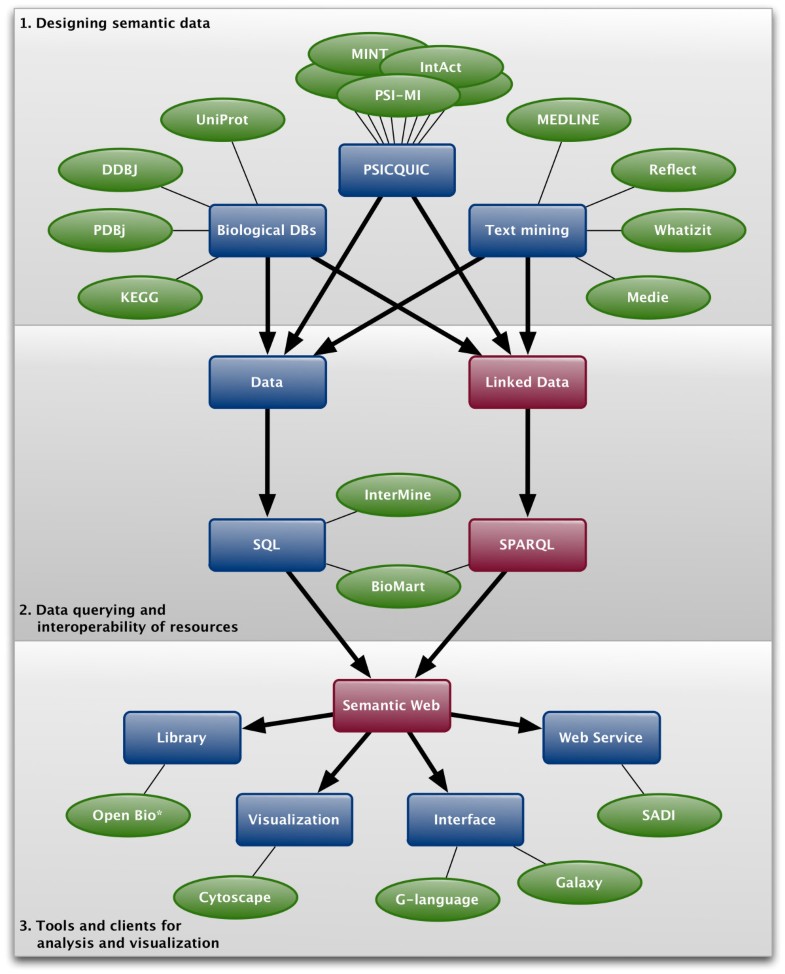 Methods
Ontologies
Ontologies and ontology-like knowledge structures have been part of life science research and practice for centuries. For example, both Merriam-Webster and the Oxford English dictionary suggest that the first use of the term "nosology" (a formal classification of diseases) occurred in approximately 1721, and of course formal property-based taxonomies are almost as old as biology itself. Medical and clinical terminologies such as SNOMED CT [43] and OpenGALEN [44] have been developed over the past decades. However, the term "ontology", in its more modern usage in the life sciences, arguably began with the establishment of the Gene Ontology project in 1998 [45] which aimed to set-up a classification system for genes. Subsequently, the idea of using ontologies to categorize and annotate all types of life science data rapidly has become widely adopted. To encompass all of the potential types and uses for ontologies, some very generalized definitions of "ontology" have been proposed, with perhaps the most widely cited being "a specification of a conceptualization" [46] - quite simply, to be formal and explicit about the "things", concepts and relationships that exist in a domain of interest. The Artificial Intelligence community further specified this definition for their own field, as "the models that capture and describe specific domains" [47].
At the intersection of the life sciences and the computer sciences, we find ontologies being used for a wide variety of purposes, such as annotation (e.g., plant anatomy [48]), supporting biological analysis (e.g., systems biology modeling [49]); data integration and improved shareability (e.g., the Gene Ontology [45]); and decision support (e.g., Clinical Practice Guidelines [50]).
Given the wide range of use-cases and disparate development communities, a variety of standards and structures emerged within which to capture this explicit ontological knowledge. The Semantic Web initiative of the World Wide Web Consortium (W3C) consolidated these into three core standards for data representation, knowledge representation, and querying, described as follows.
RDF
The Resource Description Framework (RDF) is a data model proposed by the W3C to implement and support the Semantic Web infrastructure. RDF consists of three components - Resources, Relationships, and Literals. A Resource is any nameable "thing" (e.g., an entity or a concept) and RDF Resources are always named by Universal Resource Indicators (URIs). Optimally, every Resource should only have one URI that is shared throughout the Web, though in practice this is quite difficult to achieve (and, in fact, was a topic of significant discussion at the BioHackathon, as will be described below). The second component is the Relationship, also called the "Predicate". Relationships are used to describe how two Resources are related to one another; these are also named by a URI, and this named relationship should also be optimally unique and shared throughout the Web. The combination of two Resources (subject and object) and their Relationship (predicate) is called a "Triple" - the smallest unit of information that can be represented on the Semantic Web. For example:
<http://example.org/event/BH10> <http://example.org/attendee> <http://example.org/people/TK>
The final component is the Literal - effectively, a numerical value or a set of characters. Literals are intended to provide concrete data about a particular Resource. As with Resource-to-Resource connections, Literals are connected to a Resource by an appropriate and well-defined Relationship URI, for example:
<http://example.org/event/BH10>  <http://example.org/year> "2010"
Literals cannot be the subject of a Triple, and therefore cannot be connected to one another. A set of Triples is called a "Graph", and Triples are generally stored in a database-like "triple-store". These databases can then be exposed on the Web as "endpoints" available for querying by a variety of tools.
RDF can be represented in various ways for the purpose of passing data from one machine to another, or for human consumption. One of the most common representations is XML [51]. Another common serialization is N3 [52], which is much more compact.
OWL
The second of the core W3C Semantic Web standards is the Web Ontology Language (OWL). OWL is a language for encoding (a) how Classes and Predicates should be interpreted, and (b) how specific combinations of Resources and Predicates can be inferred to represent a particular concept. For example, the concept of (putative) "TransmembraneProtein" might be simplistically defined in pseudo-OWL as follows:
TransmembraneProtein is: a:Protein located_in a:Membrane and has_sequence (a:Sequence and [has_motif a:Helix or a:Barrel])
Subsequently, if the following triples were found on the Web:
1.

ex:molecule type a:Protein

2.

ex:molecule has_sequence ex:sequence

3.

ex:sequence has_motif a:Helix

4.

ex:molecule located_in a:Membrane
It would be possible for a reasoner (a program that analyses the logical statements in RDF and OWL) to conclude that ex:molecule is of ontologically-defined type "TransmembraneProtein".
What may not be obvious from this example is that triples 1–4 might come from entirely different places on the Web. However, it is possible that triple 3 is brought from bioinformatics analysis and triple 4 is acquired experimentally. Because they are sharing URIs, the independently-derived triples can be easily combined into a Graph. Moreover, OWL and reasoning can then be applied to interpret ("discover") the emergent new information contained in that integrated dataset. This idea is extremely powerful. However, to achieve this power, consensus must be reached on how to represent the data in RDF such that it can be integrated as easily as just described, and this was a major theme of the BioHackathon.
SPARQL
SPARQL (SPARQL Protocol and RDF Query Language) [53] is a standard language for querying RDF data, allowing the information stored in triple stores to be explored and retrieved in a manner akin to how SQL is used to retrieve data from relational databases. A triple store that is queryable by the SPARQL language is referred to as a "SPARQL endpoint". The life science community consisted of early adopters of this technology, providing SPARQL endpoints even before this language became an official W3C recommendation [37, 38]. SPARQL queries consist of a series of triple-patterns, where any component of the triple might be a variable, and these triple-patterns can be combined into graph-patterns. SPARQL engines then look for "sub-graphs" that match the graph-pattern specified in the query. For example, the triple-pattern:
?protein <http://www.semantic-systems-biology.org/SSB#located_in> "nuclear membrane"
could be used to find all of the proteins in a given SPARQL endpoint that are located in the nuclear membrane.
To help construct SPARQL queries, efforts to bring these technologies closer to end-users are emerging, providing straightforward interfaces to domain-specific triple stores (e.g., Cell Cycle Ontology [54]).
Conclusions
BioHackathon 2010 was the one of the earliest meetings in the life sciences assembling such a large group of data providers, service developers and application projects to encourage database providers to produce their resources as Linked Data. For this purpose, we explored and tested guidelines on minting standardized URIs and predicates for creating interoperable RDF data, and observed how difficult it is to achieve consensus even within a highly collaborative community such as the BioHackathon. Means for introducing semantics into messages shared among existing biological applications were explored, which led to practical short-term solutions and long-term objectives, including the use of RDF with shared ontologies, and the role of RDF in this task became clearer. Furthermore, to fully utilize these RDF data in analytical workflows, further efforts were made to support native RDF-consuming Web services. At every step, we noted that it was necessary for providers to think about defining data very clearly with an eye to the long-term use and benefit to the community; unlike traditional Web data, RDF data is (a) meant to be automatically shared, and (b) meant to be extended by third-parties. The consequence is that RDF is more sensitive to subtle changes in intent - hence being called a 'semantic' technology.
Future directions
A variety of other relevant topics were raised at the BioHackathon, but not extensively addressed. We include these here to list some open issues that might be pursued by the wider bioinformatics community, as well as by BioHackers.
For many applications of relations in biological research it is crucial to be able to make statements regarding the origin of these relations (e.g., 'experimental' versus 'computationally inferred'). For this purpose, an initial ontology named 'evidence codes' has been implemented [117]. A further development of this is the provision of typed numerical confidence values for relations (e.g., the confidence for mouse gene A being an ortholog of human gene B is of type probability and has a value of 0.9). The providers present at BioHackathon discussed several additional open issues where a ready-to-implement consensus still needs some future work.

Distinguishing entities, the biological thing or concept, from entries, the data provider's record of the entity. This is needed to separate properly the provenance information from the biological one, preventing reasoners and other means of automated knowledge discovery from drawing wrong conclusions.

Sharing predicates: to relate pieces of information from different data sets to each other, data sets should share as many predicates as possible. Means of simplifying this must be found such that it is easier for RDF authors to (correctly) re-use existing predicates than to create their own. This is particularly important in the context of projects such as SADI that rely extensively on logical reasoning to achieve their integrative behaviors. Predicate re-use helps ensure that the maximum number of data services can be discovered, thus enhancing the user's ability to automatically analyze their data.

Versioning and updates: to make statements unambiguous and results reproducible, entries should be referred to by their specific version. Currently, not all providers implement versioned data. This requirement could be addressed with named graphs, or by relating different versions to each other with predicates, but there needs to be additional consideration by the community around this important issue, and some consensus reached as quickly as possible to minimize the impact of changes.

Temporal knowledge representation: the notion of time is an important component in life sciences (transcriptomics, for instance). Various ontologies deal with the issue of time, but do so differently. Some effort should be spent in building a common model for use-cases (e.g., the varying treatment regime, and symptomatology, of an admitted patient over the course of their hospitalization, and how these relate to one another temporally).

Capturing non-crisp biological knowledge: biological facts are commonly reported in fuzzy sentences by employing various adverbs (e.g., protein sar1 is usually located in the nuclear membrane).

Integration of multimedia: images and videos are common ways of capturing and explaining biological facts. This may be done via semantic tagging for instance.

Finally, the lack of user-friendly interfaces to access integrated systems is still a hurdle for many end users (consumers), and even providers. This reduces the motivation of the community of providers because, while integration is facilitated in general, and larger datasets can be created more quickly and at lower cost, making these integrated datasets accessible to their end-users is an even greater challenge than previously.
The next challenge for our community, and therefore the theme of coming BioHackathons, is to deliver this technology to the end-users in a way that maximizes the power of semantic representations, yet does not make the user responsible for understanding these additional complexities.
Abbreviations
API:

Application Programming Interface
BioPAX:

Biological Pathway Exchange
CBRC:

Computational Biology Research Center
CDAO:

Comparative Data Analysis Ontology
CSS:

Cascading Style Sheet
DBCLS:

Database Center for Life Science
DDBJ:

DNA Data Bank of Japan
EBI:

European Bioinformatics Institute
EDAM:

EMBRACE Data And Methods
FASTA:

Fast Alignment
FTP:

File Transfer Protocol
GTPS:

Gene Trek in Prokaryote Space
GUI:

Graphical User Interface
HCLSIG:

Semantic Web Healthcare and Life Science Interest Group
HTML:

Hypertext Markup Language
HTTP:

Hypertext Transfer Protocol
HUPO:

Human Proteome Organization
INSD:

International Nucleotide Sequence Database
INSDC:

International Nucleotide Sequence Database Collaboration
KEGG:

Kyoto Encyclopedia of Genes and Genomes
LODD:

Linked Open Drug Data
LSRN:

Life Science Resource Names
MINT:

Molecular Interaction Database
mmCIF:

Macromolecular Crystallographic Information File
MPIDB:

Microbial Protein Interaction Database
N3:

Notation 3
NCBI:

National Center for Biotechnology Information
OICR:

Ontario Institute for Cancer Research
OLS:

Ontology Lookup Service
OWL:

Web Ontology Language
PDBj:

Protein Data Bank Japan
PDBML:

Protein Data Bank Markup Language
PSI-MI:

Proteomics Standards Initiative Molecular Interaction
PSICQUIC:

Proteomics Standard Initiative Common QUery InterfaCe
RDF:

Resource Description Framework
RDFa:

RDF Annotations
SPARQL:

SPARQL Protocol And RDF Query Language
SADI:

Semantic Automated Discovery and Integration
SBML:

Systems Biology Markup Language
SIO:

Semanticscience Integrated Ontology
TDWG:

Taxonomic Database Working Group
TogoWS:

Togo Web service
TogoDB:

Togo Database
URIs:

Uniform Resource Identifiers
W3C:

World Wide Web Consortium
WSDL:

Web Services Description Language
XML:

Extensible Markup Language
XSL:

XML Schema Language.
Declarations
Acknowledgements
BioHackathon 2010 was supported by the Integrated Database Project (Ministry of Education, Culture, Sports, Science and Technology of Japan) and the Computational Biology Research Center, National Institute of Advanced Industrial Science and Technology, Japan.
Authors' Affiliations
(1)
Database Center for Life Science, Research Organization of Information and Systems, Bunkyo-ku, Japan
Copyright
© Katayama et al; licensee BioMed Central Ltd. 2013
This article is published under license to BioMed Central Ltd. This is an Open Access article distributed under the terms of the Creative Commons Attribution License (http://creativecommons.org/licenses/by/2.0), which permits unrestricted use, distribution, and reproduction in any medium, provided the original work is properly cited.