Nose to tail, roots to shoots: spatial descriptors for phenotypic diversity in the Biological Spatial Ontology
Journal of Biomedical Semantics
2014
5:34
Received: 2 July 2013
Accepted: 16 June 2014
Published: 11 August 2014
Abstract
Background
Spatial terminology is used in anatomy to indicate precise, relative positions of structures in an organism. While these terms are often standardized within specific fields of biology, they can differ dramatically across taxa. Such differences in usage can impair our ability to unambiguously refer to anatomical position when comparing anatomy or phenotypes across species. We developed the Biological Spatial Ontology (BSPO) to standardize the description of spatial and topological relationships across taxa to enable the discovery of comparable phenotypes.
Results
BSPO currently contains 146 classes and 58 relations representing anatomical axes, gradients, regions, planes, sides, and surfaces. These concepts can be used at multiple biological scales and in a diversity of taxa, including plants, animals and fungi. The BSPO is used to provide a source of anatomical location descriptors for logically defining anatomical entity classes in anatomy ontologies. Spatial reasoning is further enhanced in anatomy ontologies by integrating spatial relations such as dorsal_to into class descriptions (e.g., 'dorsolateral placode' dorsal_to some 'epibranchial placode').
Conclusions
The BSPO is currently used by projects that require standardized anatomical descriptors for phenotype annotation and ontology integration across a diversity of taxa. Anatomical location classes are also useful for describing phenotypic differences, such as morphological variation in position of structures resulting from evolution within and across species.
Keywords
AnatomySpatial relationshipsPositionAxesReasoningBSPOOntologyPhenotype
Background
Variation among anatomical phenotypes, whether across species or between mutant and wildtype model organisms, frequently involves changes in position and orientation of structures. Among fish species, for example, the position of the mouth may be ventral, dorsal, or terminal; bony vertebral processes may be oriented laterally or medially; pelvic fins may be located posteriorly or anteriorly relative to the abdomen. Computation across phenotypes thus requires a vocabulary of positional terms to understand the patterns of variation in the positioning of structures relative to others within and between organisms, and to understand the possible relationships to gene expression and regulation. Positional terms have long been used in anatomy to describe the spatial aspects of the impressive diversity of organismal forms of both plants and animals. For example, positions in animals are often described in relation to those of a bilaterally symmetrical animal (Figure
1
). Accordingly, the primary or main axis is considered the anterior-posterior (AP) axis, which extends longitudinally from head to tail. The dorsal-ventral (DV) axis is recognized in that ventral typically faces toward, and dorsal away, from a substrate (meaning towards the ground for land-dwelling organisms or towards the ocean or river/lake bottom for marine or aquatic organisms), whereas the left-right (LR) axis is defined in relation to a plane running along the anterior-posterior midline. We created the Biological Spatial Ontology (BSPO) to develop, define, and standardize terms that can be used to describe spatial and topological relationships, at multiple biological scales from cells to whole organisms, and across diverse taxa.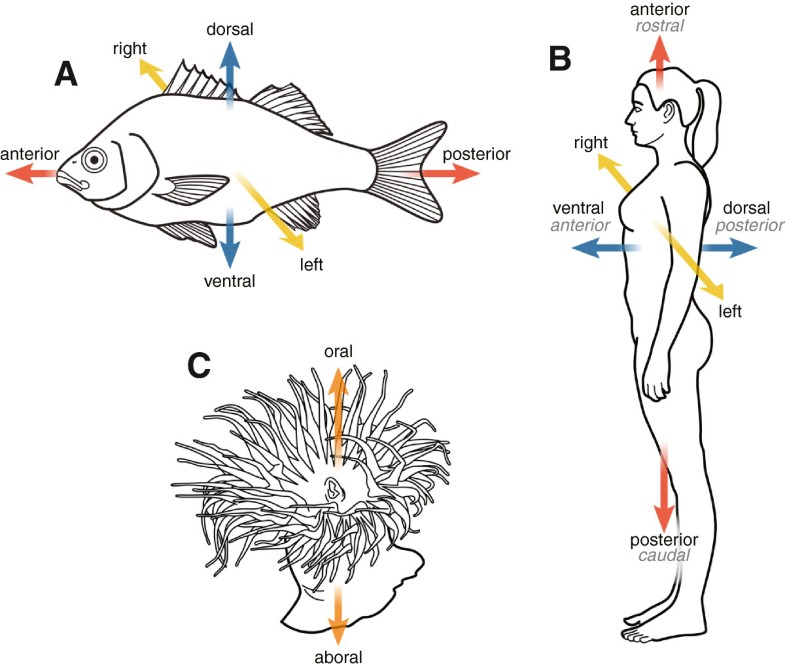 In the past two decades the developmental and genetic underpinnings of positional axes have been investigated for model species, and highly conserved key patterning molecules have been identified across widely divergent taxa. Overlapping patterns of Hox gene expression, for example, are required for organization along the AP body axis in bilaterian animals[1]. Wnt/β-catenin expression has also been shown to determine primary body axis orientation in both bilaterian and non-bilaterian animals[2]. The DV axis is patterned by the chordin–bone morphogenetic protein (BMP) network and is conserved across organisms as diverse as flies and humans (reviewed in[3]). Nodal signaling has been shown to control LR symmetry, which also appears to have an ancient prebilaterian origin[4]. Within plants, homeobox genes, such as knotted-like homeobox (knox), also play a central role in spatial developmental patterns[5]. Although specification of organismal axes may appear straightforward with respect to their application within model organisms (e.g., Arabidopsis, Caenorhabdites elegans, Drosophila, Danio rerio, Xenopus, mouse, etc.), there are taxon-specific differences in the application of spatial terms, such as to human anatomy, that render the development of a universal terminology complicated. Moreover, there are fundamental differences across the more than 35 animal body plans (e.g., tapeworms, sea urchins) and various plant growth forms (e.g., tree, shrub, herb, and thallus) that present some very difficult axes to interpret. Despite these challenges, which we describe further below, the development of a set of spatial classes is necessary for query and description of phenotypes across species.
Here we describe the development of the BSPO, which contains 146 classes and 58 relations representing anatomical axes, gradients, regions, sections, sides, and surfaces that apply to whole organisms and their parts. The BSPO is integrated with other ontologies and is currently used by projects that require standardized spatial descriptors for anatomy ontologies, ontology integration, and phenotype annotation. For example, the free-text description "anterodorsal margin of opercle" can be represented formally as BSPO:'anterodorsal margin' part_of some 'opercle' (the latter class from an anatomy ontology). Because it is driven by research needs, the spatial terminology currently represented in BSPO is particularly developed for animals and, to a lesser extent, plants. However, BSPO is organized in a framework that is flexible enough to incorporate spatial terminology for other taxa (e.g., fungi).
Conclusions
The BSPO supports unambiguous usage of positional terminology in the context of anatomical data and in the building of anatomy ontologies. BSPO also serves as a source of classes and relations for post-composition of anatomical entities, a requirement for the representation of morphological variation within and among species. To aid in its use, we include textual information indicating the 'taxon-appropriateness' of different classes and relationships in BSPO. In the future, we will also include taxon constraints[47] and add additional constraints encoded as OWL axioms.
The BSPO provides an ontological representation of anatomical position classes that can be used for spatial reasoning. For example, queries can be enabled to find structures that are proximal to one another, or to compare levels of phenotypic variation in dorsal vs. ventral regions. Particularly in light of the high level of conservation in gene pathways underlying these axes across species (e.g., BMP gradients in dorsal-ventral patterning), the BSPO is critical to enable interesting queries across phenotypes at different anatomical positions.
Methods
BSPO contains classes and relations (object properties in OWL) for the representation of anatomical axes, gradients, regions, planes, sides and surfaces (Figure 2). Spatial classes are classified along a single subclass hierarchy with upper level classes (e.g., 'material anatomical entity' , 'immaterial anatomical entity') imported from CARO. Coordination of classes with a new CARO release is ongoing, and we anticipate making a coincident new release of both ontologies soon. Some relations (e.g., part_of) used in the BSPO are defined in the Relations Ontology[48] and more specific relations (e.g., posterior_to) are exclusively defined in BSPO. The specific relations in the BSPO currently lack higher-level parents in the Relations Ontology. Some relations in BSPO are used to relate anatomical region classes to those of anatomical axis, such as 'anterior side' which has a starts_axis relationship to 'anterior-posterior axis' (Figure 2). Other commonly used relations in BSPO include overlaps (e.g., 'anterior region' overlaps 'anterior side'), and surface_of (e.g., 'anterior surface' is a surface_of 'anterior side'). Note that we define relations textually but we are unaware of a way to create a complete formal definition using OWL, which has limited capabilities for reasoning with relations.
The original version of BSPO was derived from the FlyBase annotation qualifier section of the FlyBase controlled vocabulary (FBql). We retain cross-references to the original FBcv classes. An editor's version of the ontology is maintained in OBO format and edited using OBO-Edit[49]. Public releases are made in both OBO and OWL versions of the ontology. Requests for ontology changes and additions can be made on the term request tracker (https://code.google.com/p/biological-spatial-ontology/issues/list).
Endnotes
aWe follow the Open Biological and Biomedical Ontologies (OBO Foundry) convention of referring to concepts as "classes" and the relationships between classes as "relations", as opposed to "classes" and "object properties" in the Web Ontology Language (OWL). Throughout the text, classes are denoted in single quotes and relations in italics.
bThe cleithrum is a bony element represented in the Teleost Anatomy Ontology[50] in relation to mode of skeletal development according to the Vertebrate Skeletal Anatomy Ontology[51]. These ontologies have been merged into the comprehensive Uberon anatomy ontology[33].
Declarations
Acknowledgements
We thank Robert Thacker and Marymegan Daly for useful discussion on poriferan and cnidarian axes, and Dennis W. Stevenson and Pankaj Jaiswal for discussions on plant spatial terminology. We thank Anya Broverman-Wray for her expert preparation of the illustrations. This material is based upon work supported by the National Science Foundation under Grant Numbers DBI-0641025, DBI-1062404, and DBI-1062542 to PMM and TJV, and supported by the National Evolutionary Synthesis Center under NSF EF-0423641 and NSF EF-0905606, as well as NIH 5R24OD011883 to MAH and CJM. We are grateful for support from the Phenotype Ontology Research Coordination Network; NSF-DBI-0956049; http://www.phenotypercn.org/. RLW was supported by NSF DBI-0735191 for a portion of this work, and CJM was supported by the Director, Office of Science, Office of Basic Energy Sciences, of the U.S. Department of Energy under Contract No. DE-AC02-05CH11231 for a portion of this work. Any opinions, findings, and conclusions or recommendations expressed in this material are those of the author(s) and do not necessarily reflect the views of the National Science Foundation or the National Institutes of Health.
Authors' Affiliations
(1)
Department of Biology, University of South Dakota, Vermillion, USA
(2)
National Evolutionary Synthesis Center, Durham, USA
(3)
School of Information Resource and Library Science, University of Arizona, Tucson, USA
(4)
Lawrence Berkeley National Laboratory, Berkeley, USA
(5)
Department of Genetics, University of Cambridge, Cambridge, UK
(6)
The iPlant Collaborative, Bio5 Institute, University of Arizona, Tucson, USA
(7)
Library and Department of Medical Informatics & Epidemiology, Oregon Health & Science University, Portland, USA
Copyright
© Dahdul et al.; licensee BioMed Central Ltd. 2014
This article is published under license to BioMed Central Ltd. This is an Open Access article distributed under the terms of the Creative Commons Attribution License (http://creativecommons.org/licenses/by/2.0), which permits unrestricted use, distribution, and reproduction in any medium, provided the original work is properly credited. The Creative Commons Public Domain Dedication waiver (http://creativecommons.org/publicdomain/zero/1.0/) applies to the data made available in this article, unless otherwise stated.