Semantically enabling a genome-wide association study database
Journal of Biomedical Semantics
2012
3:9
Received: 3 April 2012
Accepted: 22 August 2012
Published: 17 December 2012
Abstract
Background
The amount of data generated from genome-wide association studies (GWAS) has grown rapidly, but considerations for GWAS phenotype data reuse and interchange have not kept pace. This impacts on the work of GWAS Central – a free and open access resource for the advanced querying and comparison of summary-level genetic association data. The benefits of employing ontologies for standardising and structuring data are widely accepted. The complex spectrum of observed human phenotypes (and traits), and the requirement for cross-species phenotype comparisons, calls for reflection on the most appropriate solution for the organisation of human phenotype data. The Semantic Web provides standards for the possibility of further integration of GWAS data and the ability to contribute to the web of Linked Data.
Results
A pragmatic consideration when applying phenotype ontologies to GWAS data is the ability to retrieve all data, at the most granular level possible, from querying a single ontology graph. We found the Medical Subject Headings (MeSH) terminology suitable for describing all traits (diseases and medical signs and symptoms) at various levels of granularity and the Human Phenotype Ontology (HPO) most suitable for describing phenotypic abnormalities (medical signs and symptoms) at the most granular level. Diseases within MeSH are mapped to HPO to infer the phenotypic abnormalities associated with diseases. Building on the rich semantic phenotype annotation layer, we are able to make cross-species phenotype comparisons and publish a core subset of GWAS data as RDF nanopublications.
Conclusions
We present a methodology for applying phenotype annotations to a comprehensive genome-wide association dataset and for ensuring compatibility with the Semantic Web. The annotations are used to assist with cross-species genotype and phenotype comparisons. However, further processing and deconstructions of terms may be required to facilitate automatic phenotype comparisons. The provision of GWAS nanopublications enables a new dimension for exploring GWAS data, by way of intrinsic links to related data resources within the Linked Data web. The value of such annotation and integration will grow as more biomedical resources adopt the standards of the Semantic Web.
Keywords
OntologyPhenotypeGWASRDF
Background
In recent years the amount of data generated from genome-wide association studies (GWAS) has increased rapidly. However, the formal representation and description of those data, especially with regards to phenotype, has lagged behind. The publication of the first successful GWAS in 2005 heralded the start of an exciting new era of genetic research that would go on to contribute substantially to our understanding of disease mechanisms, such as the discovery of novel genes linked to Crohn's disease and age-related macular degeneration [
1
]. By March 2008 over one hundred GWAS had been published, and that number was growing nearly exponentially [
2
]. The rapid rate of growth has been sustained, and so by the start of 2012, over one thousand published GWAS papers are available in the literature (Figure
1
; red line).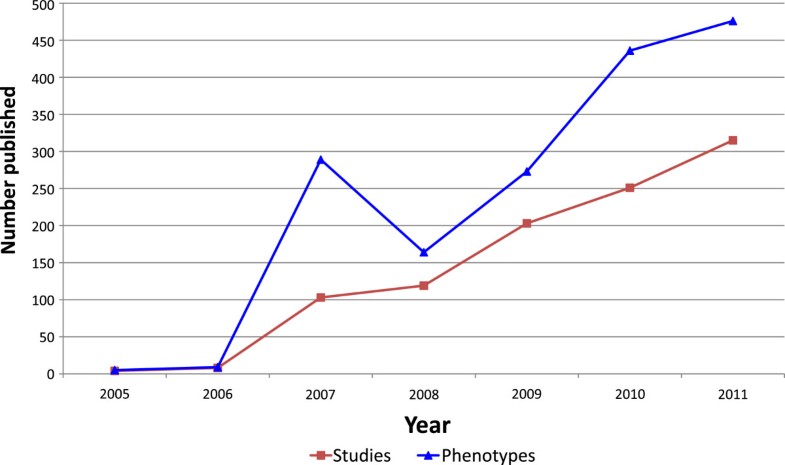 The database resource GWAS Central http://www.gwascentral.org (established in 2007, then named HGVbaseG2P [3]) is a comprehensive central collection of genetic association data with a focus on advanced tools to integrate, search and compare summary-level data sets. GWAS Central is a core component of the GEN2PHEN project http://www.gen2phen.org, which aims to unify human and model organism genetic variation databases. The modular architecture of GWAS Central allows the infrastructure to be extended for use with different types of data, and it is anticipated that through future support from the BioSHaRE project http://www.bioshare.eu, GWAS Central will be extended to integrate exome and next-generation sequencing data.
Currently, GWAS Central collates data from a range of sources, including the published literature, collaborating databases such as the NHGRI GWAS Catalog [4], and direct submissions from collaborating investigators. A given study represented in GWAS Central may investigate the genetic association to a single phenotype, or a range of phenotypes, associated with a disease of interest. In the case of multiple phenotypes, "sub-studies" will be reported as separate experiments. For example, a single GWAS may identify common genetic variation altering the risk to type 2 diabetes susceptibility, and so report the results from single or multiple experiments investigating related traits such as fasting plasma glucose levels, insulin sensitivity index, insulin response or findings from a glucose tolerance test. GWAS Central captures this distinction and reports the individual phenotype tested as well as the disease of interest.
GWAS Central currently holds 1664 reported phenotypes (Figure 1; blue line). Identical phenotypes may be described differently between studies due to inconsistencies associated with variations in terminology use and in editorial style of authors when describing the phenotypes. A pragmatic solution was required to allow harmonisation of the GWAS phenotype descriptions to facilitate consistent querying within GWAS Central, and to ensure that the phenotype data can be accessed and understood using a semantic standard to allow data integration.
Discussion
Selecting a suitable ontology and annotating phenotypes
We adopted the use of MeSH to define GWAS phenotypes to meet the overriding requirement of being able to capture and organise all data within a single ontology for querying and comparison within GWAS Central. While SNOMED CT scored slightly higher in our automatic annotation analysis compared to MeSH, there are doubts over the suitability of SNOMED CT for use by biomedical researchers. SNOMED CT is a clinical terminology, and has been adopted by the NHS for use as a coding standard. However, concerns have been raised regarding its complexity having a detrimental impact on finding data coded to it [52]. MeSH is more intuitive to biomedical researchers and has been shown to be capable of annotating all GWAS phenotypes at an informative level of granularity, albeit at a coarser granularity than originally described in some cases.
In order to assist our phenotype annotation process we have investigated the use of text-mining and mark-up tools to automate the extraction of relevant phenotype ontology terms from the GWAS literature. We focussed on the annotation of GWAS phenotypes with MeSH, since MeSH forms the "backbone" of GWAS Central annotations. A range of tools are available for the automatic annotation of free-text with MeSH Terms (see [53] for a review of four distinct methods for classifying text with MeSH). We investigated two tools that are well documented and are currently supported: the NCBO Annotator [54] and MetaMap [55]. Both tools were used to annotate a subset of ten full-text GWAS articles with MeSH Terms. Curators also assessed the same subset and assigned MeSH Terms manually following the GWAS Central phenotype annotation process (see Methods).
While a detailed analysis of how the automated tools performed is out of the scope of this article, there was one commonality. Both tools could assign MeSH Terms (including phenotype-relevant terms) to GWAS studies as a whole, however during the manual annotation process MeSH Terms could be assigned to individual GWAS experiments in keeping with the GWAS Central data model. Currently, GWAS Central represents studies that are described in 147 different journal titles, with varying editorial styles. GWAS metadata is complex and understanding the associations between participant panels, methods, observations and genetic marker datasets, as required by the data model, can be challenging for expert curators.
For these reasons, we conclude that there is currently little benefit in incorporating automatic text-annotation using the tools we have evaluated. Nonetheless, we are encouraged to further investigate the possibility of building on the principles of these tools and to develop an advanced text-mining and annotation strategy for future use in GWAS Central.
In the intervening years since the inception of HGVbaseG2P, and subsequently GWAS Central, complementary GWAS databases have embraced the benefits of using controlled vocabularies for the description of phenotypes. Two GWAS databases that currently make use of controlled vocabularies are the DistiLD database [56] and GWASdb [57].
The DistiLD database (reported in 2011) maps GWAS SNPs to linkage disequilibrium blocks and diseases where ICD10 is used to define the diseases. ICD10 is an ideal vocabulary for the description of disease phenotypes, but, as expected, resolution is lost when querying the dataset for non-disease traits. For example, a search for "blood pressure" on the main search page [http://distild.jensenlab.org] simply returns results from free-text searches of the publication titles and abstracts.
GWASdb (reported in 2011) allows exploration of genetic variants and their functional inferences, incorporating data from other databases including GWAS Central. Seventy percent of phenotypes in GWASdb are mapped to DOLite and the remainder are mapped to HPO [57]. This prevents the use of a single ontology to query against the complete dataset. It is also unclear from the interface as to the level of granularity of the annotations, with only the first four levels of HPO accessible from the browser. By contrast, GWAS Central annotates up to level nine of HPO and it is therefore difficult to assess whether GWAS Central and GWASdb annotations agree for a given study.
A wider question remains as to the reproducibility of phenotype annotations between databases and the interchange of data bound to different standards. We have initiated coordination between complementary GWAS databases to ensure a unified set of annotations exist, mapped to all relevant semantic standards in use in the community (see the "GWAS PhenoMap" project at http://www.gwascentral.org/gwasphenomap/).
Cross-species phenotype analysis
Our human-mouse phenotype comparison pipeline facilitates immediate retrieval of ontology-bound phenotype data for orthologous genes. Orthologous genes that do not share a phenotype could be novel candidates for the phenotype and thus could benefit from undergoing further study.
Phenotypes can be logically defined using ontologies by making an equivalence between terms in a pre-composed ontology (e.g. MeSH, HPO and MPO) and entity and quality (EQ) decompositions [26]. For example, the MPO term "supernumerary teeth" is represented in EQ as "E: tooth + Q: having extra physical parts" (taken from the OBO Foundry mammalian phenotype logical definitions).
Comparison of the phenotypes generated from our pipeline is currently a manual process, but this could be optimised through using the EQ logical definitions of the pre-composed ontology terms. This would provide computer-interpretable definitions that could support reasoning to suggest, for example, that the MPO term "supernumerary teeth" and the HPO term "Increased number of teeth", represented by the same logical definition (using a species-neutral anatomy ontology), are equivalent.
Encouragingly, work has begun on decomposing HPO musculoskeletal related terms into EQ definitions for the purpose of cross-species comparisons [44]. As the EQ definition layer is progressed by domain experts into other categories of phenotypes covered by HPO, the possibility of making GWAS phenotypes available as EQ statements advances closer.
In an alternative approach, the PhenoHM human-mouse phenotype comparison server accepts phenotypes as input, rather than genes, and implements direct mappings from human (HPO) to mouse (MPO) ontologies [58] to identify human and mouse genes with conserved phenotypes. By comparison, our pipeline provides the flexibility to allow phenotypes from any ontology to be manually compared (from any database providing the relevant web services) and in theory the PhenoHM mappings could be extended to include MeSH and other ontologies. However, evaluation is required of the benefits of producing relatively quick ad hoc mappings between terminologies compared to a more time-consuming logical definition process that could facilitate more extensive cross-ontology comparisons.
Whichever method is employed, it will make reversing the pipeline an attractive possibility. Lists of orthologous phenotypes could serve as input for querying against human and mouse resources to retrieve associated genes, in order to answer questions such as "which gene is responsible for this phenotype in the mouse?". In the immediate term we anticipate that the rich, high-quality GWAS phenotype annotations in GWAS Central will enhance the results of current and future cross-species comparisons involving the human.
Semantic GWAS data nanopublishing
By making genotype-phenotype associations available in a Linked Data-friendly form [59], GWAS Central has taken the first steps towards interoperability on the Semantic Web. Our prototype nanopublications were designed to link with and mesh into the broader web of Linked Data, by way of shared URI identifiers and ontologies for identifying and describing key entities in our domain of interest. This first-generation collection of GWAS nanopublications, though limited in scope and features, holds great potential for enriching the expanding network of semantically-enabled online information resources in the biomedical sphere.
It is important to emphasise that GWAS Central nanopublications are simply items of data, not statements of knowledge. For example, a p-value for a marker in a GWAS represents a statistical test of association that was factually observed in an experiment. This p-value is clearly not equivalent to a validated biological causal relationship between a genetic variant and a disease. There is some risk that eventual users of the data may confuse the two, especially given that GWAS nanopublications will be distributed widely and consumed outside of the "parent" GWAS Central resource itself. This is not a reason to avoid nanopublishing as such, but it does underline the importance of including appropriate metadata describing context and provenance along with, and clearly linked to, the core assertions.
As new tools are developed to reduce the technical knowledge required to semantically enable resources (e.g. the D2RQ Platform [60] and Triplify [61]) and leave bioinformaticians with the job of simply organising their data, it seems obvious that increasing numbers of biomedical resources will become semantically enabled in the near future. As and when this happens, we intend to further expand the set of Linked Data resources that our GWAS nanopublications link out to, thereby increasing their utility when consumed by other semantic tools. We are also planning to further expand the semantic capabilities of GWAS Central by exposing the association nanopublications, the SPARQL endpoint and the phenotype comparison pipeline (and future workflows we may develop) via the SADI framework.
Conclusions
We have made available high-quality phenotype annotations within a comprehensive GWAS database. We have considered the spectrum of phenotypes reported by published GWAS, ranging from diseases and syndromes to individual medical signs and symptoms, and adopted a suitable annotation framework to capture phenotypes at the finest level of granularity. All GWAS phenotypes are bound to a MeSH Descriptor to ensure the pragmatic necessity that a single ontology can be queried to retrieve all phenotype data. The HPO provides single phenotypic abnormality annotations either directly, mapped from MeSH, or inferred via deconstructions of disease phenotypes. A human-mouse phenotype comparative pipeline provides a valuable tool for comparison of human and mouse phenotypes for orthologous genes.
By providing GWAS Central data in the form of nanopublications and integrating this data into the Linked Data web, we present a platform from which interesting and serendipitous findings related to genotypes, phenotypes, and potentially other types of Linked Data, can be made.
Availability of supporting data
Abbreviations
DO:

Disease Ontology
GWAS:

Genome-wide association study/studies
HPO:

Human Phenotype Ontology
ICD:

International Classification of Diseases
MeSH:

Medical Subject Headings
MGD:

Mouse Genome Database
MPO:

Mammalian Phenotype Ontology
OBO:

Open Biological and Biomedical Ontologies
OMIM:

Online Mendelian Inheritance in Man
RDF:

Resource Description Framework
SNOMED CT:

Systematized Nomenclature of Medicine - Clinical Terms
UMLS:

Unified Medical Language System.
Declarations
Acknowledgements
We thank the curation team of Robert Hastings, Sirisha Gollapudi and Raheleh Rahbari for providing the high-quality phenotype annotations within GWAS Central. This work was funded by the European Community's Seventh Framework Programme (FP7/2007-2013) under grant agreement 200754, GEN2PHEN.
Authors' Affiliations
(1)
Department of Genetics, University of Leicester, University Road, Leicester, UK
Copyright
© Beck et al.; licensee BioMed Central Ltd. 2012
This article is published under license to BioMed Central Ltd. This is an Open Access article distributed under the terms of the Creative Commons Attribution License (http://creativecommons.org/licenses/by/2.0), which permits unrestricted use, distribution, and reproduction in any medium, provided the original work is properly cited.