OpenTox predictive toxicology framework: toxicological ontology and semantic media wiki-based OpenToxipedia
Journal of Biomedical Semantics
2012
3(Suppl 1):S7
Abstract
Background
The OpenTox Framework, developed by the partners in the OpenTox project (http://www.opentox.org), aims at providing a unified access to toxicity data, predictive models and validation procedures. Interoperability of resources is achieved using a common information model, based on the OpenTox ontologies, describing predictive algorithms, models and toxicity data. As toxicological data may come from different, heterogeneous sources, a deployed ontology, unifying the terminology and the resources, is critical for the rational and reliable organization of the data, and its automatic processing.
Results
The following related ontologies have been developed for OpenTox: a) Toxicological ontology – listing the toxicological endpoints; b) Organs system and Effects ontology – addressing organs, targets/examinations and effects observed in in vivo studies; c) ToxML ontology – representing semi-automatic conversion of the ToxML schema; d) OpenTox ontology– representation of OpenTox framework components: chemical compounds, datasets, types of algorithms, models and validation web services; e) ToxLink–ToxCast assays ontology and f) OpenToxipedia community knowledge resource on toxicology terminology.
OpenTox components are made available through standardized REST web services, where every compound, data set, and predictive method has a unique resolvable address (URI), used to retrieve its Resource Description Framework (RDF) representation, or to initiate the associated calculations and generate new RDF-based resources.
The services support the integration of toxicity and chemical data from various sources, the generation and validation of computer models for toxic effects, seamless integration of new algorithms and scientifically sound validation routines and provide a flexible framework, which allows building arbitrary number of applications, tailored to solving different problems by end users (e.g. toxicologists).
Keywords
Resource Description FrameworkOntology DevelopmentAnatomy OntologyCommon Information ModelRepeat Dose Toxicity
Methodology
The construction of formal ontology follows relatively established principles in knowledge representation. We have taken into consideration those principles available for biomedical ontology development, particularly the OBO Foundry principles, such as availability for community, common syntax, collaborative development, documentation and definition of terms. We have tried to keep our ontology orthogonal to other existing projects. OT ontologies were checked for logical consistency with the Pellet OWL reasoned [37]. Our open approach to ontology development supports current and future collaborations with different projects. We use the DL species of the Web Ontology Language (OWL DL) supported by the Protégé OWL editor. An overview of the OT ontology is given on the public area of the OT website [38] together with instructions on how to enter the OT Collaborative Protégé Server and to contribute to existing OT projects on OWL development. Some of the ontologies are manually created from scratch; others partially reuse existing ones and extend them with task-related concepts and relations.
The ToxML ontology is semi-automatically generated from the existing ToxML schema by parsing it to OWL. The sub-schemas describing different toxicity studies were analysed by chemists and computer scientists who agreed on a set of rules which needed to be implemented to convey the semantics of the relations between the objects and to remove redundant information in the new format. The rules are directions for creating, removing, and renaming classes/properties which are to be executed by the program and they cover various aspects such as:
♦ to distinguish classes from properties among the XML fields;
♦ to introduce object properties – by default in the schema all properties correspond to data type properties in OWL because they connect an entity to a string value;
♦ to remove some of the container classes, which are not needed in an ontology (Tests, Compounds, etc.) – these are necessary in XML because they frame a set of subfields, but in OWL, each Test or Compound is a separate Object and many of these objects can exist independently and they are all related to their originating type class;
♦ to rename classes which appear with the same name in different contexts.
The resulting ontology has a flat structure with numerous newly introduced relations (of type rdf:Property) representing the semantics of the nested structure of the XML ToxML schema (see Figure
1
);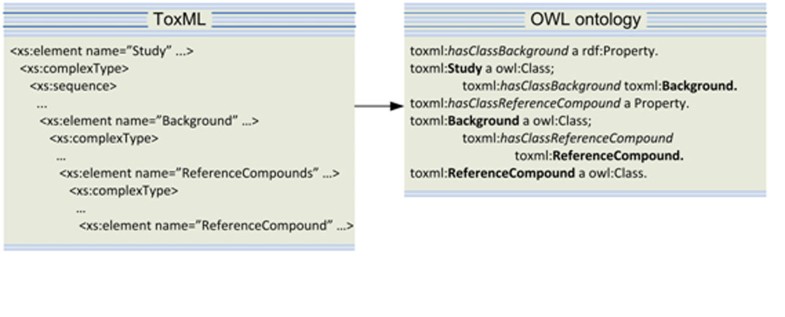 ♦ The IS-A relation is introduced only to a limited number of classes.
Example: ChronicStudies rdfs:subClassOf Study;
♦ The relations between the classes are obtained from the nested XML structures and encoded as follows: for each tuple of nested fields in the schema F1 and F2 (nested in F1), two new classes <Class F1> and <Class F2> are created in OWL along with an object property <hasClassF 2 > which expresses the relation between both classes. The feature <hasClassF 2 > has domain <Class F1> and range <Class F2> (the range and domain could be a union of classes if the nested class appears more than once in the source schema). For example Figure 1 compares the corresponding representation of the nested fields Study, Background and ReferenceCompound in ToxML and OWL.
♦ Fields which have string values in XML are converted to properties in OWL.
Example: The field Name which has a string value type becomes a datatype property hasName
♦ Ambiguous labels are unified.
Example: The field Results is used in several different contexts, that is why we rename it to TreatmentResults, in the treatment group;
♦ Wherever possible, object type properties are introduced instead of datatype ones – thus string values are replaced by named concepts.
Example: In ToxML schema the field Sex is defined as a simple type of type string, which would be converted to property in direct conversion, but in OWL we introduce a new class Sex, thus creating an object property has Sex instead of a datatype one.
♦ Mapping to Organ ontology and study type classifications can be applied.
OpenToxipedia has been developed using the SMW. It was created manually by experts in the fields of in silico and experimental toxicology on the basis of known regulatory documents, glossaries, dictionaries and some primary publications. All registered members are welcome to add new entries, suggest definitions and edit the existing resource at http://www.opentoxipedia.org. OpenToxipedia is curated by toxicology experts within the OT community.
The SMW was chosen for OpenToxipedia representation for the following main reasons: it enables automatic processing of the wiki knowledgebase and it gives a possibility for data transfer between RDF and SMW through SPARQL. SMW will facilitate the automatic data exchange between OpenToxipedia, the ontologies and OpenTox web services using RDF data. The SMW is a collaborative system, supports versioning, RDF export, tools to lock pages by a curator (fixing a validated vocabulary) and the possibility to add annotation without changing the ontology or RDF information.
Conclusions
The need for speeding up the toxicological assessment of chemicals, and of using less animals and less expensive tools has strongly stimulated the development of predictive toxicology and of structure-based approaches. A wide spectrum of predictive approaches applied to toxicity exist today, including read-across, regulatory categories, and (Quantitative) Structure-Activity Relationships ((Q)SAR) modelling. All these predictive approaches share the need of highly structured information as a starting point: the definition of ontology and of controlled vocabulary is a crucial requirement in order to standardize and organize the chemical and toxicological data on which the predictive toxicology methods build on. The availability of ontology specific for predictive toxicology is crucial to the interoperability of OpenTox services and data resources. OT ontology could be integrated for other software platforms in developing and deploying user applications, thus laying the foundations for a semantic web linking effectively all the resources of the growing field of 21st Century predictive toxicology.
The initial OpenTox FP7 project was completed in August 2011. We hope the OT ontology will be incorporated in an extended future toxicological ontology framework. There is an important need for an increased international coordination of efforts for the integration of genomics, proteomics, transcriptomics data that would provide the possibility of identifying the potential targets involved in pathological processes and of selecting the most promising targets for future chemical or drug product development.
Future predictive models may integrate reasoning capabilities, but still using the same uniform representation. The complexity and diversity of the processing is reduced to the simple paradigm "read data from a web address, perform processing, write to a web address". RDF representation of all resources can be retrieved via their web addresses and analysed automatically. The OpenTox components can work equally well across the internet, inside an intranet or collapsed into a local application running on a single machine. There is a striking parallel with the ideas of "down scaling" the semantic web looking for the solutions of moving away from heavy and centralized triple stores, but still retaining the power of structured representations and semantic technologies.
Declarations
Acknowledgements
OpenTox
An Open Source Predictive Toxicology Framework, http://www.opentox.org, is funded under the EU Seventh Framework Program: HEALTH-2007-1.3-3 Promotion, development, validation, acceptance and implementation of QSARs (Quantitative Structure-Activity Relationships) for toxicology, Project Reference Number Health-F5-2008-200787 (2008-2011).
Project Partners
Douglas Connect, In Silico Toxicology, Ideaconsult, Istituto Superiore di Sanita', Technical University of Munich, Albert Ludwigs University Freiburg, National Technical University of Athens, David Gallagher, Orekhocvich Institute of Biomedical Chemistry of the Russian Academy of Medical Sciences, Seascape Learning and the Fraunhofer Institute for Toxicology & Experimental Medicine.
The authors would like to thank Richard Judson and Imran Khan (United States Environmental Protection Agency, ToxCast Program, http://www.epa.gov/ncct/toxcast/), who contributed to the ToxLink–ToxCast assays ontology development.
This article has been published as part of Journal of Biomedical Semantics Volume 3 Supplement 1, 2012: Proceedings of the Bio-ontologies Special Interest Group 2011. The full contents of the supplement are available online at http://www.jbiomedsem.com/supplements/3/S1
Authors' Affiliations
(1)
Istituto Superiore di Sanit, Environment and Health Department, Rome, Italy
(2)
Ideaconsult Ltd, Sofia, Bulgaria
(3)
Fraunhofer Institute for Toxicology & Experimental Medicine, Hannover, Germany
(4)
Orekhovich Institute of Biomedical Chemistry of Russian Academy of Medical Sciences, Moscow, Russia
(5)
In silico Toxicology, Basel, Switzerland
(6)
Douglas Connect, Zeiningen, Switzerland
Copyright
© Tcheremenskaia et al; licensee BioMed Central Ltd. 2012
This article is published under license to BioMed Central Ltd. This is an Open Access article distributed under the terms of the Creative Commons Attribution License (http://creativecommons.org/licenses/by/2.0), which permits unrestricted use, distribution, and reproduction in any medium, provided the original work is properly cited.