Reporting phenotypes in mouse models when considering body size as a potential confounder
Journal of Biomedical Semantics
2016
7:2
Received: 21 October 2015
Accepted: 2 February 2016
Published: 9 February 2016
Abstract
Genotype-phenotype studies aim to identify causative relationships between genes and phenotypes. The International Mouse Phenotyping Consortium is a high throughput phenotyping program whose goal is to collect phenotype data for a knockout mouse strain of every protein coding gene. The scale of the project requires an automatic analysis pipeline to detect abnormal phenotypes, and disseminate the resulting gene-phenotype annotation data into public resources. A body weight phenotype is a common result of knockout studies. As body weight correlates with many other biological traits, this challenges the interpretation of related gene-phenotype associations. Co-correlation can lead to gene-phenotype associations that are potentially misleading. Here we use statistical modelling to account for body weight as a potential confounder to assess the impact. We find that there is a considerable impact on previously established gene-phenotype associations due to an increase in sensitivity as well as the confounding effect. We investigated the existing ontologies to represent this phenotypic information and we explored ways to ontologically represent the results of the influence of confounders on gene-phenotype associations. With the scale of data being disseminated within the high throughput programs and the range of downstream studies that utilise these data, it is critical to consider how we improve the quality of the disseminated data and provide a robust ontological representation.
Keywords
Lean MassResource Description FrameworkMouse Genome InformaticsMammalian PhenotypeInclude Body Weight
Introduction
In genotype-phenotype studies, one approach to identify abnormal phenotypes is a statistical comparison of data collected from control and gene-altered animals. In this paper we use the International Mouse Phenotyping Consortium (IMPC) statistical analysis pipeline as a use case study [
1
]. The goal of the IMPC is to produce and phenotypically characterise 20,000 knockout mouse strains in a reproducible manner across multiple research centres. This high-throughput phenotyping is based on a pipeline concept where a mouse is characterised in a series of phenotype screens underpinned by standard operating procedures defined by the IMPC in the International Mouse Phenotyping Resource of Standardised Screens (IMPReSS) resource [
2
]. This pipeline approach characterises seven males and seven females for each knockout line and results in data for over 200 physiological variables that cover a variety of disease-related and biological systems. As the scale of the program requires the statistical analysis to be automated, we have developed the statistical package PhenStat [
3
] to analyse genotype-phenotype associations. In order to provide a consistent representation of results, area experts have reviewed the IMPReSS screens and have associated one or more terms from the Mammalian Phenotype Ontology (MP) [
4
] with each variable. For example, the variable "fasted blood glucose concentration" is associated to three MP terms: "abnormal-", "increased-", and "decreased-" "-fasted circulating glucose level". Using this approach, abnormal phenotypes identified via statistical analysis are summarised as gene-phenotype associations, easily understood by the biological community and facilitating dissemination to the community (Fig.
1
). The current analysis pipeline only takes sex into consideration when identifying abnormal phenotypes. Sharing these gene-phenotype annotations also enables data mining across species and studies e.g. for disease gene candidate discovery, pharmacogenetics and evolutionary studies [
5
–
7
].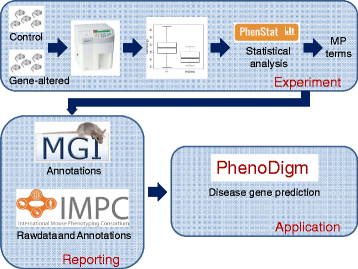 During the statistical comparison of control and gene-altered data, confounding variables associated with both the genotype change and the phenotype of interest can lead to an association that is true but potentially biologically misleading. The presence of the confounding relationship can lead to errors in the estimates of the relationship between the treatment of interest (here the genotype change) and the variable of interest (here the phenotype). Good experimental design can manage many potential confounders using standardisation e.g. with the potential confounder of age, the study would only test animals of the same age. An alternative strategy is randomisation, in which animals of multiple ages are tested in both control and the experimental knockout group. Yet another strategy is grouping (blocking) according to a confounding variable (e.g. pup or adult). Depending on the strategy applied, the final annotation could be specific to one particular age. To minimise the potential impact of confounders within IMPC, the community identified critical sources of variation in screens and used this to develop a standardised operating procedure which, where possible, minimises variation and captures potential sources of variation as metadata with each dataset. Metadata parameters (e.g. X-ray equipment) are included in the IMPReSS protocols and submitted metadata is used to determine comparison groups as part of the statistical analysis pipeline.
In many research studies, it is not possible to manage confounding variables during the design. For example, in many gene knockout studies, the knockout animals show an abnormal body weight change. Therefore, any other phenotypic traits (e.g. abnormal body fat mass MP:0012320) that correlate with body weight will also be impacted. As the experimenter cannot control this potential confounder through the design, it is necessary to consider statistical methods for non-equivalent groups [8]. These include regression methods where the confounder is treated as a covariate, meaning the statistical test will assess the effect of the genotype on the phenotype after adjusting for the confounder's relationship. This requires a dataset to be processed twice, first without and then with the confounder in the statistical analysis; giving two sets of results for the test of genotype. This granularity has a high potential value to improve our interpretation of the relationship between a gene and associated phenotypes. However, the vast majority of MP terms represent absolute phenotype changes in a variable of interest. The Mouse Genome Informatics database (MGI) [9] developed MP to manually curate the scientific literature. However, only in rare, clear cause and effect cases are confounding variables represented as part of the ontology. For example, the term "progressive muscle weakness" (MP:0000748) is defined as a muscle weakness that increases with time. Time or age are clearly contributing to the severity of the phenotype and thus represent knowledge that should be represented in the ontology [10]. However, in many studies a confounding variable is noted by authors' to contribute to a phenotype, but a clear cause and effect relationship is not established. The current mechanism employed by MGI is to manage confounders at the level of annotation by utilising free text qualifiers. For example, the curator will note if an author states body weight was a confounder when associating a phenotype to a genotype. With the scale of IMPC data and the automated aspect of statistical analysis and subsequent annotation, we have the potential to manage these issues in a consistent way and through standardisation better support downstream informatic analysis. The interest in including body weight as a covariate, in both high throughput phenotyping studies and small scale studies, is growing [8, 11–13]. This manuscript aims to raise awareness of the issues and demonstrate the potential value of addressing the problems. We then identify adaptations to the existing mechanisms utilised by the community that could address this new aspect where we wish to disseminate the outcome of an analysis that considers body weight as a confounder.
Data and scripts used to investigate and demonstrate issues presented within this manuscript are available at Zenodo [14].
Abbreviations
A1:

analysis pipeline 1
A2:

analysis pipeline 2
API:

application program interface
BW:

body weight
IMPC:

international mouse phenotyping consortium
IMPReSS:

international mouse phenotyping resource of standardised screens
MGI:

mouse genome informatics database
MGP:

mouse genetics project
MP:

mammalian phenotype ontology
MRC:

medical research council
OBAN:

ontology for biomedical association
PATO:

phenotype and trait ontology
RDBMS:

relational database management systems
RDF:

resource description framework
WTSI:

wellcome trust sanger institute
Declarations
Acknowledgements
We thank staff from the Sanger Institute's Research Support Facility, Mouse Genetics Project and Mouse Informatics Group for their excellent support.
NAK, AO, TFM were funded by the National Institutes of Health Common Fund grant: (NIH) [1 U54 HG006370-01], HP is funded by EMBL-EBI Core funds. SS is funded by the Centre for Therapeutic Target Validation. In addition, the individuals' affiliated to the WTSI institute were also funded by the Wellcome Trust grant: WT098051.
We thank Cynthia Smith, Susan Bello and Janan Eppig from the Jackson Laboratory, James Malone of FactBio Ltd, and Ann-Marie Mallon and Michelle Simon from MRC Harwell for helpful discussion on these issues.
The funders had no role in study design, data collection and analysis, decision to publish or preparation of the manuscript
Open AccessThis article is distributed under the terms of the Creative Commons Attribution 4.0 International License (http://creativecommons.org/licenses/by/4.0/), which permits unrestricted use, distribution, and reproduction in any medium, provided you give appropriate credit to the original author(s) and the source, provide a link to the Creative Commons license, and indicate if changes were made. The Creative Commons Public Domain Dedication waiver (http://creativecommons.org/publicdomain/zero/1.0/) applies to the data made available in this article, unless otherwise stated.
Authors' Affiliations
(1)
Mouse Informatics Group, Wellcome Trust Sanger Institute, Hinxton, UK
(2)
Social Genetic & Developmental Psychiatry, King's College London, London, UK
(3)
Samples, Phenotypes and Ontologies, European Molecular Biology Laboratory—European Bioinformatics Institute, Hinxton, UK
(4)
Samples, Phenotypes and Ontologies, European Bioinformatics Institute (EMBL-EBI), European Molecular Biology Laboratory, Wellcome Trust Genome Campus, Hinxton, UK
(5)
The Centre for Therapeutic Target Validation, Wellcome Trust Genome Campus, Hinxton, UK
(6)
Mouse Genetics Project, Wellcome Trust Sanger Institute, Hinxton, UK