Mining of vaccine-associated IFN-γ gene interaction networks using the Vaccine Ontology
Journal of Biomedical Semantics
2011
2(Suppl 2):S8
Abstract
Background
Interferon-gamma (IFN-γ) is vital in vaccine-induced immune defense against bacterial and viral infections and tumor. Our recent study demonstrated the power of a literature-based discovery method in extraction and comparison of the IFN-γ and vaccine-mediated gene interaction networks. The Vaccine Ontology (VO) contains a hierarchy of vaccine names. It is hypothesized that the application of VO will enhance the prediction of IFN-γ and vaccine-mediated gene interaction network.
Results
In this study, 186 specific vaccine names listed in the Vaccine Ontology (VO) and their semantic relations were used for possible improved retrieval of the IFN-γ and vaccine associated gene interactions. The application of VO allows discovery of 38 more genes and 60 more interactions. Comparison of different layers of IFN-γ networks and the example BCG vaccine-induced subnetwork led to generation of new hypotheses. By analyzing all discovered genes using centrality metrics, 32 genes were ranked high in the VO-based IFN-γ vaccine network using four centrality scores. Furthermore, 28 specific vaccines were found to be associated with these top 32 genes. These specific vaccine-gene associations were further used to generate a network of vaccine-vaccine associations. The BCG and LVS vaccines are found to be the most central vaccines in the vaccine-vaccine association network.
Conclusion
Our results demonstrate that the combined usages of biomedical ontologies and centrality-based literature mining are able to significantly facilitate discovery of gene interaction networks and gene-concept associations.
Keywords
Biomedical OntologyGene Interaction NetworkBacterial VaccineSpecific VaccineGeneric IFNG
Introduction
Interferon-gamma (IFN-γ) is one of the most important endogenous regulators of immune responses [1]. IFN-γ is vital in immune defense against infectious diseases, inflammatory conditions, tumor, and autoimmune diseases. For example, mice lacking either IFN-γ or its receptor have increased susceptibility to the infections of bacterial and viral pathogens [2]. It also regulates various immune responses that are often critical for induction of protective immunity generated by vaccines [1–3].
In our recent study, a novel literature-based discovery (LBD) approach based on Natural Language Processing (NLP) and network centrality analysis was applied to identify genes related to human IFN-γ (Gene symbol: IFNG) and potentially important for vaccine development [3]. Initially, a generic IFNG gene interaction network was built by automatically extracting the interactions of IFNG and other genes using abstracts from all articles in PubMed. A subnetwork was also generated by including the interactions extracted from vaccine-related sentences. Four network centrality metrics (i.e., degree, eigenvector, closeness, and betweenness) were further calculated to rank the genes in the constructed networks. By comparing the resulting generic IFNG network and the vaccine-specific subnetwork, many new observations and hypotheses were generated [3].
It is possible to further improve the literature-based network discovery by applying biomedical ontologies. A biomedical ontology represents the consensus-based controlled vocabularies of terms and relations which are logically formulated to promote intelligent information retrieval and modeling. The Vaccine Ontology (VO; http://www.violinet.org/vaccineontology) is a community-based ontology in the domain of vaccine and vaccination [4]. VO has classified a large number of existing vaccines in licensed use, on trial, or in research. Each subclass in VO has an "is_a" relationship with its parent class. This ensures that all vaccine subclasses (e.g., the Bacillus Calmette-Guérin vaccine strain or BCG) can be included when a parent class (e.g., "Mycobacterium tuberculosis vaccine" or "vaccine") is searched in literature mining. In addition, VO includes many machine-readable annotations of various vaccines using the Web Ontology Language (OWL). For example, a vaccine's quality (e.g., live vs. inactivated) and components (e.g., antigen and adjuvant) are defined in VO. These annotations can be processed by an ontology reasoner for automated reasoning. Currently, VO contains more than 500 vaccine names.
In this study, we incorporated the VO support to our LBD method. We hypothesized that the application of VO will increase our centrality-based literature retrieval of IFN-γ and vaccine-mediated gene interaction networks. Our results indicate VO significantly increases the retrieval of the IFNG-vaccine network and provides new insights and hypotheses for future investigations.
Methods
The detailed literature-based network discovery methods were described in our recent publication [3]. Here we summarize the basis of the method with a focus on emphasizing the new application of VO in this approach.
Results
This study is an extension of previous IFNG and IFNG-vaccine network analyses [3]. The primary focus of this extended study is on the potential enhanced network retrieval based on the VO.
Discussion
Our study indicates that the application of the Vaccine Ontology (VO) in the centrality-based literature mining enhanced the gene interaction discovery, leading to our finding of new genes and interactions that could not be found before. Our method also allows the generation of the networks of gene-vaccine and vaccine-vaccine associations, leading to better understanding of vaccine-induced immune mechanisms.
The VO is developed using the Web Ontology Language (OWL) [20]. The OWL-based vaccine ontology provides rich semantic constructs, such as necessary and sufficient conditions. An asserted ontology term hierarchy provides user-defined is_a definitions. Each ontology term also includes different ontological attributes, which can be used for ontological reasoning and generating inferred ontology hierarchy (Figure 4B). These hierarchies can be used for ontological analyses of various networks generated using centrality and ontology-based literature discovery
Biomedical ontologies, particularly, the Gene Ontology (GO), have been used in retrieval of gene interaction networks based on literature data [21, 22]. For example, Daraselia et al. [21] developed a method for automatic extraction of gene ontology annotation and its correlation with clusters in protein networks. The approach developed by Raychaudhuri et al. [22] assigned GO terms to PubMed abstracts and then assigned identified GO terms to proteins based on statistical analysis of their occurrences in PubMed abstracts. Compared to existing methods, the primary novelty of our ontology-based network discovery approach is that it is based on the novel literature-mined network centrality analysis method that we internally developed [3]. The centrality- and ontology-based approach is generic and can be used to identify other gene interaction networks using biomedical ontologies in other domains.
Derived from current research, we propose a new strategy of a Centrality and Ontology-based Network Discovery using Literature data (CONDL). The general framework of this CONDL strategy is illustrated in Figure
6
. Given a concept of interest (
e.g.
, vaccine), an ontology in this concept (
e.g.
, VO), and a set of known concept-related genes (seed genes,
e.g.
, IFNG), the goal is to predict novel concept-related genes. First, a gene interaction network is built by automatically extracting the interactions of the seed genes and their neighbors from the literature. Then, network centrality metrics are used to rank the genes in the network. The underlying hypothesis is that the central genes in this concept-specific network of interactions are also likely to be related to the concept. By comparing the resulting generic gene network (
e.g.
, the generic IFNG network) and the concept-specific subnetwork (
e.g.
, IFNG-vaccine network), many new observations and hypotheses were generated [
3
]. The ontology can be used to extend the concept-specific subnetwork. Furthermore, a network of gene-ontology term associations, and a network of ontology terms can be generated. The ontological attributes of ontology terms can be used for more advanced ontology analyses (Figure
6
).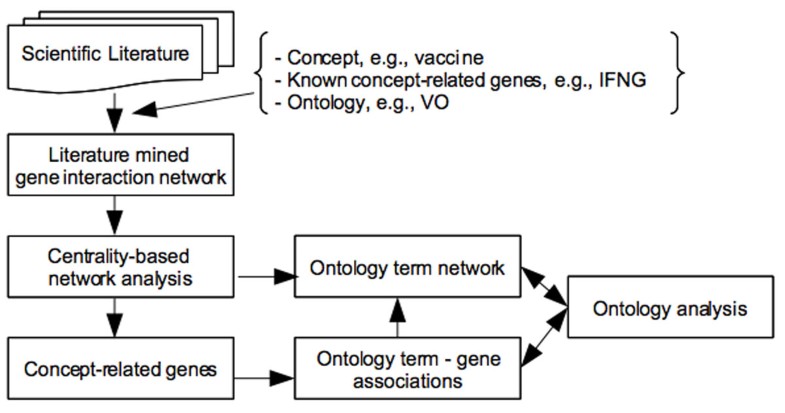 To further facilitate the study of interaction networks, we have started to generate an Interaction Ontology Network (INO; http://sourceforge.net/projects/ino). INO was initiated to classify those more than 800 interaction keywords we manually collected in this study. These keywords are organized in INO using a hierarchical structure and aligned with the Basic Formal Ontology (BFO; http://www.ifomis.org/bfo). For example, INO includes an ontology class term increase, which has synonyms increases, increased, increasing, and elevated. The parent ontology term of increase in INO is positive regulation. This strategy of classifying interaction terms in hierarchical ontology structure will allow the literature mining and ontology communities to further re-use these terms and support automated reasoning.
Our future plan includes a larger scale of vaccine interaction network analysis beyond the IFNG-associated networks. We are also developing a web server to store the analyzed data and provide a user-friendly web interface to query and visualize the results. The interactions shown in our networks may be specific for certain conditions. The interactions may not be true when experimental conditions change. The possibilities of using other ontologies in our analyses would facilitate our gene interaction network investigations. For example, the Cell Ontology [23] can be used to extract cellular locations of gene interactions. The Cell Line Ontology [24] can be used to determine which cell lines were studied for specific gene interactions.
List of abbreviations used
GO:

Gene Ontology
HGNC:

HUGO Gene Nomenclature Committee
HUGO:

Human Genome Organisation
LBD:

Literature-Based Discovery
NCIBI:

National Center for Integrative Biomedical Informatics
OWL:

Web Ontology Language
PMN:

polymorphonuclear leukocytes
SVM:

Support Vector Machine
TLR4:

Toll-like receptor-4
TNF:

Tumor necrosis factor
TRAIL:

(TNF)-related apoptosis-inducing ligand
VO:

Vaccine Ontology.
Declarations
Acknowledgements
This research is supported by NIH grants R01AI081062 and U54-DA-021519.
This article has been published as part of Journal of Biomedical Semantics Volume 2 Supplement 2, 2011: Proceedings of the Bio-Ontologies Special Interest Group Meeting 2010. The full contents of the supplement are available online at http://www.jbiomedsem.com/supplements/2/S2.
Authors' Affiliations
(1)
Faculty of Computer and Informatics, İstanbul Technical University, Maslak, Turkey
(2)
Department of Electrical Engineering and Computer Science, University of Michigan, Ann Arbor, USA
(3)
Unit for Laboratory Animal Medicine, University of Michigan, Ann Arbor, USA
(4)
Department of Microbiology and Immunology, University of Michigan, Ann Arbor, USA
(5)
Center for Computational Medicine and Bioinformatics, University of Michigan, Ann Arbor, USA
(6)
School of Information, University of Michigan, Ann Arbor, USA
Copyright
© Özgür et al; licensee BioMed Central Ltd. 2011
This article is published under license to BioMed Central Ltd. This is an open access article distributed under the terms of the Creative Commons Attribution License (http://creativecommons.org/licenses/by/2.0), which permits unrestricted use, distribution, and reproduction in any medium, provided the original work is properly cited.