Evaluating a variety of text-mined features for automatic protein function prediction with GOstruct
Journal of Biomedical Semantics
2015
6:9
Received: 3 November 2014
Accepted: 27 February 2015
Published: 18 March 2015
Abstract
Most computational methods that predict protein function do not take advantage of the large amount of information contained in the biomedical literature. In this work we evaluate both ontology term co-mention and bag-of-words features mined from the biomedical literature and analyze their impact in the context of a structured output support vector machine model, GOstruct. We find that even simple literature based features are useful for predicting human protein function (F-max: Molecular Function =0.408, Biological Process =0.461, Cellular Component =0.608). One advantage of using literature features is their ability to offer easy verification of automated predictions. We find through manual inspection of misclassifications that some false positive predictions could be biologically valid predictions based upon support extracted from the literature. Additionally, we present a "medium-throughput" pipeline that was used to annotate a large subset of co-mentions; we suggest that this strategy could help to speed up the rate at which proteins are curated.
Keywords
Text miningProtein function predictionBiomedical concept recognition
Introduction
Characterizing the functions of proteins is an important task in bioinformatics today. In recent years, many computational methods to predict protein function have been developed to help understand functions without performing costly experiments. Most computational methods use features derived from sequence, structure or protein interaction databases [1]; very few take advantage of the wealth of unstructured information contained in the biomedical literature. Because little work has been conducted using the literature for function prediction, it is not clear what type of text-derived information will be useful for this task or the best way to incorporate it. In this work, we evaluate two different types of literature features, co-occurrences of specific concepts of interest as well as a bag-of-words model, and assess the most effective way to combine them for automated function prediction. We also provide many examples of the usefulness of literature features for verification or validation of automated predictions.
Background
Literature mining has been shown to have substantial promise in the context of automated function prediction, although there has been limited exploration to date [2]. The literature is a potentially important resource for this task, as it is well known that the published literature is the most current repository of biological knowledge and curation of information into structured resources has not kept up with the explosion in publication [3]. A few teams from the first Critical Assessment of Functional Annotation (CAFA) experiments [1] used text-based features to support prediction of Gene Ontology (GO) functional annotations [4].
Wong and Shatkay [5] was the only team in CAFA that used exclusively literature-derived features for function prediction. They utilized a k-nearest neighbor classifier with each protein related to a set of predetermined characteristic terms. In order to have enough training data for each functional class, they condensed information from all terms to those GO terms in the second level of the hierarchy, which results in only predicting 34 terms out of the thousands in the Molecular Function and Biological Process sub-ontologies. Recently, there has been more in-depth analysis into how to use text-based features to represent proteins from the literature without relying on manually annotated data or information extraction algorithms [6]. This work explored using abstracts along with unigram/bigram feature representation of proteins.
Another team, Björne and Salakoski [7], utilized events, specifically molecular interactions, extracted from biomedical literature along with other types of biological information from databases; they focused on predicting the 385 most common GO terms.
The work we presented in the first CAFA [8] is on a different scale from these previous efforts, and integrates information relevant for predicting protein function from a range of sources. We utilize as much of the biomedical literature as possible and are able to make predictions for the entire Gene Ontology, thanks to a structured output support vector machine (SVM) approach called GOstruct [9]. We found in that previous work that features extracted from the literature alone approach performance of many commonly used features from non-literature sources, such as protein-protein interactions derived from a curated resource. However, we used only concept co-occurrence features – focusing on simple, scalable features – leaving open many questions about the best strategy for representing the literature for the task of automated protein function prediction.
In this work, we therefore explore a variety of text-mined features, and different ways of combining these features, in order to understand better the most effective way to use literature features for protein function prediction. We have extended our workshop paper [10] by refining the enhanced GO extraction rules, performing more extensive analysis of the data at the functional class level, and extending validation through manual curation using a "medium-throughput" curation pipeline. We again explore these questions in the context of the structured output SVM model, GOstruct.
Methods
An overview of our experimental setup can be seen in Figure
1
with more specific details about each process following.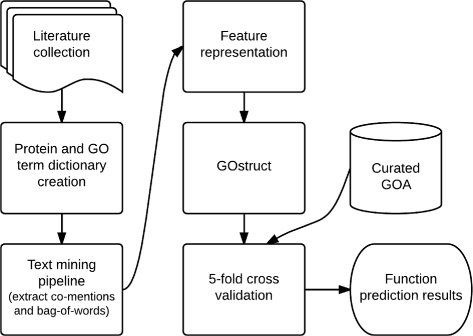 Conclusions
In this work we explored the use of protein-related features derived from the published biomedical literature to support protein function prediction. We evaluated two different types of literature features, ontology concept co-mentions and bag-of-words, and analyzed their impact on the function prediction task. Both types of features provided similar levels of performance. The advantage of the bag-of-words approach is its simplicity. The additional effort required to identify GO term mentions in text pays off by offering users the ability to validate predictions by viewing the specific literature context from which an association is derived, as demonstrated in our experiments.
In addition, we compared the value of concept co-mentions considering two different spans of co-occurrence: within a sentence ("sentence co-mention") and across a sentence boundary (sentence-external, or "non-sentence co-mention"). Interestingly, we found that sentence and non-sentence co-mentions are equally useful, and that they are best used in conjunction as separate feature sets. Combining co-mentions and bag-of-words data provided only a marginal advantage, and in future work we will explore ways to obtain better performance from these features together. We also show that increasing the ability to recognize GO terms from biomedical text leads to more informative functional predictions. Additionally, the literature data we used provides performance that is on par with other sources of data such as network and sequence and has the advantage of being easy to verify on the basis of the text.
Our experiment in medium-throughput manual inspection of protein-GO term co-mentions suggests that this strategy can be used as a way of speeding up the process of curation of protein function. The literature contains millions of co-mentions, and a human-in-the-loop system based on the detected co-mentions prioritized by GOstruct can be a highly effective method to dramatically speed up the rate at which proteins are currently annotated.
Future work
This work marks only the beginning of incorporating text mining for protein function prediction. There are always other more sophisticated or semantic features to explore, but based upon these results, there are some natural next steps.
The first would be to incorporate larger spans for a bag-of-words model due to the surprising performance of the non-sentence co-mentions. By including words from surrounding sentences, or an entire paragraph, more context would be en-coded and the model might result in better predictions.
Secondly, we found that an enhanced dictionary produced more individual co-mentions and fewer predictions, resulting in slightly increased performance. We explored several possible explanations as to why there is not a greater impact. It could be due to a large number of competing co-mentions that prevent good patterns from emerging or the possibility of introducing noise through ambiguous protein mentions. A filter or classifier that could identify a "good" co-mention would be providing much higher quality co-mentions as input, which would in turn likely lead to better predictions. Another way to potentially improve performance is to separate co-mentions found from synonyms from the original co-mentions, thereby allowing the classifier to provide them with different weights.
Declarations
Acknowledgements
This work was funded by NIH grant 2T15LM009451 and NSF grants DBI-0965616 and DBI-0965768 to ABH. KV was partially supported by NICTA, which is funded by the Australian Government as represented by the Department of Broadband, Communications and the Digital Economy and the Australian Research Council through the ICT Centre of Excellence program.
Authors' Affiliations
(1)
Computational Bioscience Program, University of Colorado School of Medicine, Aurora, USA
(2)
Department of Computer Science, Colorado State University, Fort Collins, USA
(3)
Department of Computing and Information Systems, University of Melbourne, Parkville, Australia
(4)
Health and Biomedical Informatics Centre, University of Melbourne, Parkville, Australia
Copyright
© Funk et al.; licensee BioMed Central. 2015
This is an Open Access article distributed under the terms of the Creative Commons Attribution License (http://creativecommons.org/licenses/by/4.0), which permits unrestricted use, distribution, and reproduction in any medium, provided the original work is properly credited. The Creative Commons Public Domain Dedication waiver (http://creativecommons.org/publicdomain/zero/1.0/) applies to the data made available in this article, unless otherwise stated.