PAV ontology: provenance, authoring and versioning
Journal of Biomedical Semantics
2013
4:37
Received: 26 April 2013
Accepted: 7 October 2013
Published: 22 November 2013
Abstract
Background
Provenance is a critical ingredient for establishing trust of published scientific content. This is true whether we are considering a data set, a computational workflow, a peer-reviewed publication or a simple scientific claim with supportive evidence. Existing vocabularies such as Dublin Core Terms (DC Terms) and the W3C Provenance Ontology (PROV-O) are domain-independent and general-purpose and they allow and encourage for extensions to cover more specific needs. In particular, to track authoring and versioning information of web resources, PROV-O provides a basic methodology but not any specific classes and properties for identifying or distinguishing between the various roles assumed by agents manipulating digital artifacts, such as author, contributor and curator.
Results
We present the Provenance, Authoring and Versioning ontology (PAV, namespace http://purl.org/pav/): a lightweight ontology for capturing "just enough" descriptions essential for tracking the provenance, authoring and versioning of web resources. We argue that such descriptions are essential for digital scientific content. PAV distinguishes between contributors, authors and curators of content and creators of representations in addition to the provenance of originating resources that have been accessed, transformed and consumed. We explore five projects (and communities) that have adopted PAV illustrating their usage through concrete examples. Moreover, we present mappings that show how PAV extends the W3C PROV-O ontology to support broader interoperability.
Method
The initial design of the PAV ontology was driven by requirements from the AlzSWAN project with further requirements incorporated later from other projects detailed in this paper. The authors strived to keep PAV lightweight and compact by including only those terms that have demonstrated to be pragmatically useful in existing applications, and by recommending terms from existing ontologies when plausible.
Discussion
We analyze and compare PAV with related approaches, namely Provenance Vocabulary (PRV), DC Terms and BIBFRAME. We identify similarities and analyze differences between those vocabularies and PAV, outlining strengths and weaknesses of our proposed model. We specify SKOS mappings that align PAV with DC Terms. We conclude the paper with general remarks on the applicability of PAV.
Keywords
ProvenanceAuthoringVersioningAnnotationSemantic webAttribution
Background
Research in the life sciences is becoming increasingly digital and collaborative. Scientists tend to conduct their investigations and reporting using digital resources (e.g., data artifacts, articles, etc.) obtained by aggregating existing resources (potentially generated as a result of other research investigations conducted by other scientists), and processed and analyzed using manual or automated workflows.
In such a context, scientists require a systematic means to organize and annotate resources [1]. This might require them, amongst other things, to: (i) trace the origin of a given resource; (ii) specify its previous and subsequent versions; and (iii) identify the creators (be they humans or machines) responsible for the existence of the resource, as well as the contributors who enriched and updated its content. For the most general use, a provenance vocabulary that meets these criteria must also be relatively compact and terse.
Several provenance vocabularies including Dublin Core Terms (DC Terms) [2], PROV-O [3], OPM [4], and Provenance Vocabulary [5] partially address these general needs, at varying levels of richness, complexity and maturity. In this section, after discussing the original use case, we discuss the strengths and weaknesses of these vocabularies and gaps in usage coverage, which led us to develop the Provenance Authoring and Versioning (PAV) ontology. In the Results section we also provide mappings from PAV to PROV-O and DC Terms.
Original use case: SWAN platform
The Semantic Web Applications in Neuromedicine (SWAN) web-based collaborative platform [6] is an example of an application that embodies many of the above requirements. SWAN aims to organize and annotate scientific knowledge regarding neurodegenerative disorders and to facilitate the formation, development and testing of hypotheses. In particular, the AlzSWAN [7] knowledge base (AlzSWAN KB), a collaboration of SWAN's developers with the AlzForum web community of Alzheimer Disease researchers [8], is an instance of SWAN configured to allow the scientific community of Alzheimer Disease (AD) researchers to author, curate and connect a diversity of data and ideas about AD. The AlzSWAN curators typically read carefully a scientific article, usually representing a hypothesis on AD, and produce a linear representation of the embedded scientific discourse: claims, hypotheses and questions. For each of the discourse elements the curator selects related publications, proteins and genes. Knowledge in the AlzSWAN KB is shared using the SWAN Ontology [9] for interoperability.
One of the goals of the AlzSWAN KB consists in clearly recording the provenance of the digital artifacts as well as the provenance of the content or knowledge elements represented by the artifacts, and the agents (organizations, people and software) involved in creating and manipulating those artifacts. There is a clear distinction between the roles of the authors and curators, and the source of content:
Authors are the primary originators of scientific statements, originally conceiving the content (e.g. a tabular dataset).
Curators collect the knowledge published by the authors, interpreting and transforming the content of a textual document into SWAN research statements (hypothesis, claim or research question). They re-structure the previously authored content and shape it to be appropriate for the intended representation (e.g. by normalizing the fields for being represented in a spreadsheet). Curators create the SWAN KB version that embodies the authors' work; thus they are contributing to the knowledge representation. However, the main intellectual property remains attributed to the original authors.
Artifact creators take care of physically creating the digital artifact by entering the statements and their links into the platform, (e.g. saves the spreadsheet as an .xlsx file).
External sources are the external data- and knowledge-bases such as PubMed [10] and UniProt [11, 12] that AlzSWAN draws upon for metadata and for integrated data. Some of this metadata are retrieved and cached as they are, while some are imported after one or more transformations. It is important to track the original source and how it was incorporated in the knowledge base.
As depicted in Figure
1
, the AlzSWAN knowledge capture and curation process consists of several steps: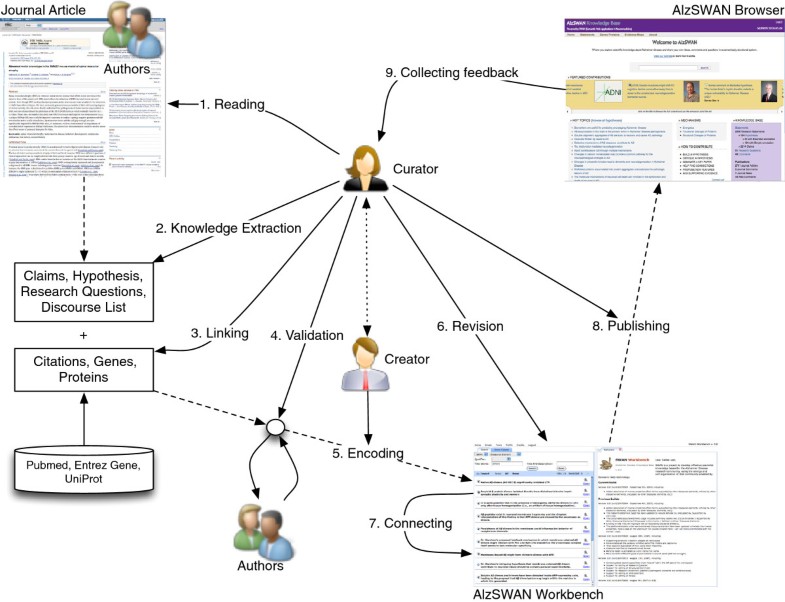 A PhD-level neuroscientist (the curator) reads carefully an article (written by authors) usually representing a hypothesis on AD.
Based on the reading, the curator produces a textual document with a linear knowledge representation of the scientific discourse of the article, by building an ordered list of claims, hypotheses and questions.
For each of those elements, the curator identifies external resources such as related publications, proteins and genes. These resources provide data that can be retrieved in unmodified form, or imported after a transformation.
When possible, the formed representation is shared with the authors of the original article for collecting feedback.
The knowledge map is entered in AlzSWAN by a second person (the artifact creator) through a web user interface, which eventually encodes the textual content according to the SWAN ontology.
While step 5 represents the straightforward creation of the digital artifact, steps 1–4 represent the curation of the knowledge that the authors expressed in the journal article. Curation involves high-level domain knowledge and acts of judgement and creative composition. Both authors and curators originate digital content; author-ship denotes the role of creative invention of a work, while the artifact creator of a work in our terminology is responsible for accurate transcription and encoding into final digital form.
Figure 1 also depicts tasks of revision, publishing and feedback collection. In particular, the feedback might motivate the generation of a new version of the encoded knowledge. Normally, in the case of AlzSWAN a new version might include newly available evidence supporting a given claim.
Existing provenance vocabularies
There are existing vocabularies that at first appear to be promising to address the needs of AlzSWAN and similar applications: Dublin Core Terms (DC Terms) [2], PROV-O [3], OPM [4], and Provenance Vocabulary [5].
The Dublin Core Metadata Initiative (DCMI) provides core metadata vocabularies to support interoperable solutions for discovering and managing resources. In particular, DC Terms provides terms for specifying the entities that create and/or contribute to the existence of a given resource. While terms such as dct:contributor and dct:creator are useful and popular, we argue that they conflate what we consider as the distinct roles of contributor/author/curator and creator of the representation. For instance, a person who converts a web page from HTML 3 to HTML 5 could be said to be the dct:creator or dct:contributor of the new document, even when that person has not modified the human readable content of the document.
DC Terms provides a means for specifying derivation and representational differences (dct:source, dct:isVersionOf, dct:isFormatOf), but these do not clearly distinguish between a resource which was simply copied, one which was transformed to give rise to a new resource, or one which was further derived by adding additional content (for example new scientific evidence). For versioning DC Terms has dct:isVersionOf, which implies substantive changes in content (e.g. a movie can be a version of a theater play), and dct:replaces, which indicates a superseded resource. However, these statements do not quite fit with dealing with and distinguishing between: smaller updates (e.g. spelling mistakes); larger derivations (which might no longer be versions of the original); and linear revision history without necessarily indicating previous versions as outdated. Consider, for example, a health authority where Dr. Doe authored and implemented the clinical guidelines for treating hypertensive patients and sent it to Dr. Green for comments. Green edits his copy to suggest extending a drug treatment from 2 weeks to 4 weeks. Because Green's guideline has not been approved yet, we cannot state that his document replaces (dct:replaces) Doe's document. Also, Green's document is in the same form and does not introduce substantive changes (dct:isVersionOf) from Doe's document.
PROV-O [3], an OWL ontology developed by the W3C Provenance Working group [13] aims to provide a standard for representing and exchanging domain-independent provenance information between applications and systems. PROV-O provides terms that can be used to trace the origin of a given resource, its derivation history, as well as the relationship between the resources, and the entities that contributed to the existence of the resource. PROV-O can be used at detailed process level with activity-agent-entity interactions, or at a higher level with shortcuts for entity-entity and entity-agent relations such as prov:wasDerivedFrom and prov:wasAttributedTo.
Overall PROV-O is a generic provenance data model, which can be extended to give domain-specific provenance, for instance by subclasses of prov:Activity or subproperties of prov:wasAttributedTo. PROV-O does not itself provide any distinctions between authors, curators, contributors or artifact creators.
PROV-O specifies a set of common extensions, which at first glance would seem to cover some of our requirements: i) prov:hadPrimarySource: a kind of "derivation relation from secondary materials to their primary sources, which were produced by some agent with direct experience and knowledge about the topic", ii) prov:wasQuotedFrom, the "repeat of (some or all of) an entity, such as text or image, by someone who may or may not be its original author".
However, on closer examination these terms are inadequate. For example, in the AlzSWAN project, curators consulted papers on the web. Such an action cannot be described using prov:hadPrimarySource, because the documents consulted by the curators were not necessarily primary sources[3] such as witness statements, reports or interviews; we found the definition of primary sources to be too narrow to cover most academic publications. Instead, we need a means to describe the fact that the curators simply accessed a document. Curators can also download a file from a source on the web, such as UniProt. Although prov:wasQuotedFrom can be used to relate the document to the source it was downloaded from, it does not reflect that the document is a complete and exact copy of the document in the source.
The Open Provenance Model [4] predates PROV-O, and has a very similar approach to modeling provenance by relating agents, artifacts and processes. By and large, the concepts of OPM are covered by equivalent PROV-O concepts, therefore the above analysis of PROV-O applies also to OPM.
DC Terms, PROV-O and OPM are domain-independent and general-purpose vocabularies. Therefore the limitations we identified above should not be perceived as issues that need to be addressed within these vocabularies. In fact, the PROV-O authors do not claim that the vocabulary is complete. Instead, they encourage users to extend it with terms that capture their domain needs.
The Provenance Vocabulary [5] describes data access, creation, retrieval and publishing as detailed chains of prov:Activity and prov:Entity relations. Terms like prv:accessedResource, prv:createdBy, prv:retrievedBy seem relevant for our use cases, but as detailed in the Discussion section, this approach come at the cost of increased verbosity, which we argue reduces the ability to query the provenance in a consistent way.
For describing the provenance of the AlzSWAN use cases such as the one depicted in Figure 1, we designed the PAV (Provenance, Authoring and Versioning) ontology, whose most recent version, PAV 2, maps to PROV-O. In PAV, we do not attempt to model the whole chain of process-oriented provenance like Open Provenance Model (OPM) processes [4] and PROV-O activities [3], or the many forms of metadata as covered by Dublin Core Terms (DC Terms) [2]. Rather, in PAV we focus on the provenance of a digital resource in terms of its relationships with other digital resources and agents involved in their creation, authoring and manipulation, and we abstract away from the description of the activities (process) that manipulate and transform the digital resources.
Results
In this section we present the PAV ontology, describing its structure and constituent terms. We go on to present the systems and communities that have adopted PAV, and to discuss how they use it. Finally, we present a collection of mappings, specifying how PAV extends the W3C PROV-O vocabulary.
Method
The PAV ontology was developed with the aim of enabling traceability of scientific results and their representations. The design was driven by real requirements, which initially stemmed from the AlzSWAN project, and later were expanded to requirements from other projects. DC terms and Open Provenance Model [4] were available at that time, and could have been used. However, they were found not to be suitable. Specifically, DC Terms conflates different agent roles that the participants in the SWAN project want to distinguish, in particular, authorship, creation and contribution. OPM adopts a process-oriented view of lineage by detailing the processes whereby artifacts are used and generated, and the agents that controlled those processes. Instead, the requirements elicited in the context of the SWAN project, and other projects later on, targeted mainly the expression of lineage in terms of the relationships between the artifacts, and the relationships between the artifacts and the agents involved in their creation, authorship or curation.
For these reasons, we decided to develop a new vocabulary that specifically addressed the SWAN project requirements. In doing so, the following principles were followed:
Keep the ontology lightweight: Experience suggests that a complex and large vocabulary (albeit well crafted) is likely not to be adopted by users. Therefore, the authors of PAV were keen to have a minimal set of terms (properties) that cater for the needs identified in the context of the AlzSWAN project. In particular, PAV does not attempt to model the complete chain of process-oriented provenance.
Favoring Incremental (and organic) development: Rather than trying to design an ontology and convince the users to utilize it, the development of the PAV ontology went through cycles in which the ontology designers communicated with end users and examined how the ontology is used in practice. Modifications and additions were then made based on the observations made in each cycle.
Reuse and recommend existing vocabularies when they cater for given requirements: For those requirements supported by existing vocabularies, the authors of the PAV ontology strived to either recommend their reuse or (when necessary) extend them. In this respect, we have shown in the previous section, how PAV extends terms from the PROV-O ontology.
The PAV ontology is currently in its second version. Since its inception, PAV has gained momentum, and it is now adopted by several vocabularies and projects. It is increasingly viewed as one of the main vocabularies for specifying provenance information in the biomedical semantics field. Some of the applications and projects that have adopted PAV are indicated in the Results section. In 2009, PAV was used as one of its starting vocabularies by the W3C Provenance Incubator group. The Incubator group preceded the W3C Provenance Working Group, which made the current PROV specifications.
Discussion
In this section, we analyze and compare three proposals we have found to be relevant to PAV: Dublin Core Terms, BIBFRAME and Provenance Vocabulary (PRV). We then close the article by presenting some concluding remarks.
Dublin core terms
The Dublin Core Terms vocabulary provide terms such as dct:contributor and its subproperty dct:creator, and we have argued that they conflate the roles of content authoring, knowledge curation and representation creation. Although our presented use-cases highlights the importance of distinguishing these in the setting of formal knowledge representation, the ambiguous definition of dct:creator also means that its value for stating consistent provenance is significantly reduced on the web in general. In cases where the content author and representation creator are different, common use of DC Terms [2] is often to attribute only one of these, but which one depends on the application. A use case could be a corporate blog where a webmaster (Bob) types in an announcement, which the CEO (Alice) sent in an email. Some blog platforms would automatically represent the currently logged in user (Bob) as the dct:creator, other platforms might allow the webmaster to select an author (Alice) from the corporate directory and would instead represent her as the dct:creator.
Using PAV, the blog platform can be more precise about the provenance of the post. When the platform has no user interface for describing the author, the safest would be to present pav:createdBy for the current user. If the user interface allows selecting a different author, then both pav:authoredBy and pav:createdBy can be supplied. Enterprise publishing platforms could also indicate curation (e.g. hyperlinks and textual formatting) with pav:curatedBy and additional contributions (such as adding an illustration) with pav:contributedBy.
Dublin Core Terms defines terms that may cover some provenance aspects (dct:isFormatOf, dct:source, dct:isVersionOf, dct:replaces), however DC Terms concerns itself primarily with catalogue metadata for a resource, while PAV has a bigger focus on entity-agent-driven provenance.
For instance, dct:isFormatOf is an existential statement that there is a different representation of the same content, while pav:importedFrom also implies directionality and a transformation step which was performed by an agent, indicated with pav:importedBy. The former term is useful for finding alternate representations, while the latter PAV relation gives lineage to the resource, which can be beneficial for instance to track down the source of an inconsistency or to verify that data is current.
As dct:creator can be seen to cover both content authoring and creating its representation, we have defined both pav:authoredBy and pav:createdBy to be subproperties of dct:creator, while its superproperty dct:contributor is a superproperty of pav:contributedBy; here the PAV term only covers contributions to the work or content, while dct:contributor may also cover representational contributions such as scaling an image or converting HTML to PDF.
Other PAV properties have not been mapped to DC Terms in the OWL ontology. Part of the reason for this is that the DC Terms vocabulary is not fully OWL compatible (e.g. properties are not declared as either annotation or object properties), another is that we found the more bibliographic DC Terms to be hard to align with the provenance oriented aspect of PAV using strict OWL property hierarchies.
In order to clarify the differences between the remaining properties that might seem similar between PAV and Dublin Core Terms and to relate the two vocabularies in detail, we defined a SKOS mapping [
54
]. As the differences are often conceptual we found the use of SKOS [
43
] more beneficial than a formal OWL mapping. The most significant mappings are shown in Table
5
with their rationale:
Table 5
SKOS mappings of applicable PAV terms to Dublin core terms
| SKOS mapping | Rationale |
| --- | --- |
| pav:authoredBy skos:broadMatch dct:creator | Broad match due to the common usage of dct:creator to mean the creator of the Work rather than just the creator of the particular resource. Solely creating the representation of a resource is in PAV covered instead by pav:createdBy, but would often also be covered by dct:creator, therefore this is not a skos:closeMatch. |
| pav:contributedBy skos:closeMatch dct:contributor | Close match due its the common usage to mean someone who added to the Work of the resource (usually not just the digital representation), but not skos:exactMatch as purely representational contributions represented with dct:contributor should be mapped to pav:createdBy. |
| pav:createdBy skos:broadMatch dct:creator | A PAV creator is a particular kind of DC Terms creator, which made the digital representation of the resource. |
| pav:importedFrom skos:broadMatch dct:source | Imported is a specialization of being derived from the related resource in whole. |
| pav:importedFrom skos:broadMatch dct:isFormatOf | The resulting resource is substantially the same as the source, but in another format. However imported also implies provenance of a directed transformation from the original, at a given time and performed by an agent, and hence this is a broad match. |
| pav:importedBy skos:broadMatch dct:creator | The agent importing is essentially a specialized creator of the new resource, hence has close match dct:creator. In common use of DC Terms the extent of the transformation work might however affect whether a dct:creator corresponds to an importer or author. |
| pav:derivedFrom skos:broadMatch dct:source | A related resource from which the described resource is derived, but pav:derivedFrom is more specific (skos:broadMatch) than dct:source, as it requires further contributions to the content, and does not cover say pav:importedFrom or pav:retrievedFrom. |
| pav:derivedFrom skos:narrowMatch dct:isVersionOf | pav:derivedFrom do point to a resource of which the 'described resource is a version, edition, or adaptation', but also allow further derivations, and so has a narrow match dct:isVersionOf. The pav:derivedFrom does require such contributions to be in the form of content and not just representation, which corresponds closely to dct:isFormatOf 's description' Changes in version imply substantive changes in content rather than differences in format'. |
| pav:previousVersion skos:narrowMatch dct:replaces | dct:replaces is a stronger statement (skos:narrowMatch) than pav:previousVersion, as the PAV statement does not necessarily imply the original was superseded. For instance, a draft specification may be pav:previousVersion a previously published specification, but it is not dct:replaces the previous version as the draft is not official yet. |
| pav:previousVersion skos:relatedMatch dct:isVersionOf | pav:previousVersion is only considered to have a related match dct:isVersionOf, as pav:previousVersion does not generally cover 'substantive changes in content'. |
BIBFRAME
The Library of Congress officially launched its Bibliographic Framework Transition Initiative (BIBFRAME) [55, 56] initiative in May 2011. The initiative aims to re-envision the current standard for bibliographic exchange (MARC 21) [57] and implement a new bibliographic environment for libraries that makes "the network" central and interconnectedness commonplace, using semantic web technologies. As PAV can be used to express attribution of both digital resources and traditional publications, and BIBFRAME is an emerging standard within the library community, we here explore BIBFRAME and compare it with PAV.
BIBFRAME revolves around two main concepts: the
Creative Work
; and the
Instance
, reflecting an individual, material embodiment of the Work. These are similar distinctions to the
Work
and
Manifestation
dichotomy in the original Functional Requirements for Bibliographic Records (FRBR) [
58
] model, or in other related models such as the FRBR-aligned Bibliographic Ontology (FaBiO) [
59
]. An example of the BIBFRAME two-level model is depicted in Figure
15
.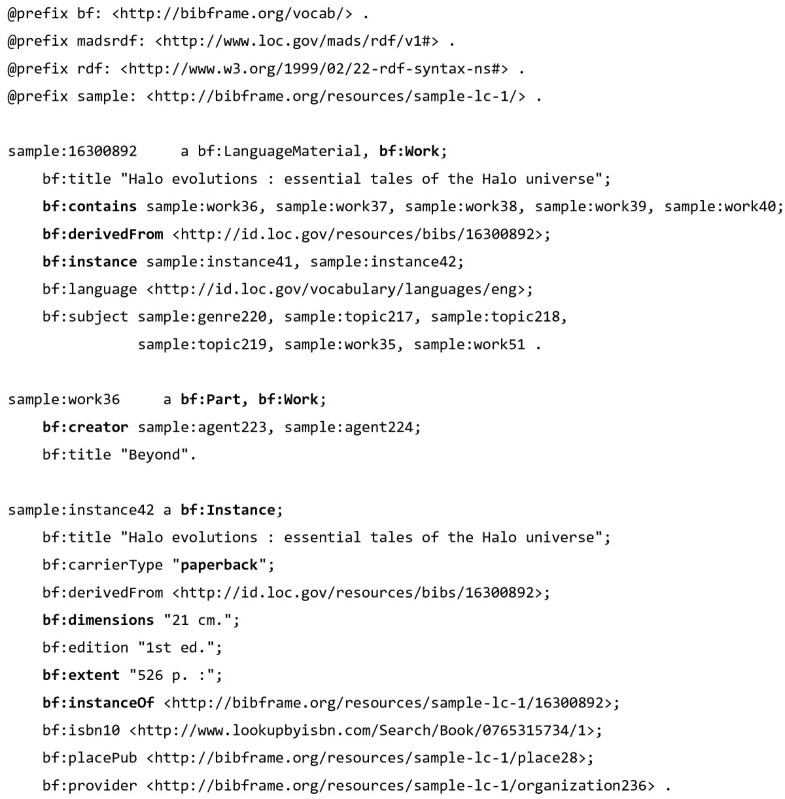 Although PAV itself does not distinguish between work and instances, the distinction between content and its representation is at the core of PAV; exemplified by pav:authoredBy vs. pav:createdBy. There is however nothing inherent with PAV itself that prevents its usage with separate Work and Instance resources. In fact, the PROV-O property prov:specializationOf is intended for modeling abstraction levels, so if a bf:Work is pav:authoredBy Alice, and a bf:Instance is a prov:specializationOf the work, then the instance can be implied to also be pav:authoredBy Alice.
For bibliographic data, multiple abstractions levels such as in BIBFRAME and FRBR are elegant and useful, but for many other use cases, such as for provenance of a blog post or nanopublication, the separation of instance and work can be inconvenient, hard or even impossible to achieve. PAV, as a general vocabulary for provenance and authoring of resources, is applicable in both approaches.
Provenance vocabulary
While PAV allows expression of data sources (pav:sourceAccessedAt) and derivations (pav:derivedFrom, pav:importedFrom), the Provenance Vocabulary (PRV) [5, 61] is an extension of PROV-O to express more detailed provenance of data items on the web, by forming chains of prov:Activity to detail data creation, retrieval, access and publication. Each activity can be associated with prov:Agents which directly or indirectly perform the work. Additional PRV modules allow expression of database queries, HTTP retrieval and file operations, and therefore PRV might at first glance seem like an alternative to PAV. We here consider a use case where Steiner et al. adopted PRV. Below, we explore the complexity of querying the process-oriented PRV approach and we demonstrate how PAV can complement such detailed provenance and simplify queries.
Using PRV and process-oriented modeling allows the service to express such provenance in detail, but forming this query requires in-depth knowledge about the particular graph structure, which mirrors how the service creates, retrieve and access data. As such, the underlying structure might change significantly if the mechanisms of the service are modified, requiring query rewrites.
We argue that PAV can provide a simpler way to describe provenance from the perspective of the interesting resource. This allows writing general provenance queries without a pre-existing understanding of the specific mechanisms that made the resource.
This simplification does come at a small cost: If multiple? api resources have been imported for the same tag, it is not possible with PAV alone to express when each individual? api was accessed, as import details such as? when and? agent are expressed directly on the resulting resource. We believe this trade-off is reasonable as for common cases there will be a single resource for each of pav:importedFrom, pav:importedOn and pav:importedBy.
Our design decision to not express the implied activities is reflected in all PAV properties such as pav:authoredOn, pav:authoredBy; or pav:sourceAccessedAt, pav:sourceAccessedBy, pav:sourceAccessedOn; and this reflects the simplicity approach of PAV.
Conclusions
In this article we have presented the PAV ontology, a lightweight vocabulary for capturing provenance, authorship and versioning of resources on the Web. PAV distinguishes between the roles of content contributors (including authors and curators) and creators of representations. Additionally PAV can describe which sources have been accessed, transformed or consumed in order to create the resource.
As well as the ontology, we have listed examples of projects that have adopted PAV, illustrating their usage through concrete examples. Furthermore, we have presented how PAV extends the W3C recommendation PROV-O, and how this enables detailed provenance traces in PROV-O to be combined with PAV's direct relationships to the origins of a resource.
Originally created in 2006 with curated knowledge bases (such as AlzSWAN) in mind, PAV has evolved and is now used to document a wide variety of digital resources. PAV introduces terms for clearly attributing the intellectual property of the content, and also deals with other aspects crucial for representing scientific content in a federated environment, such as versions and resource retrieval. PAV does not specify detail about the chain of processes that produced the current state of the resource, but gives a view of attribution metadata that is uniform across a multitude of implementations.
At the core of PAV is the distinction between authoring knowledge (content) and creating representations. This is highlighted by the mapping to DC Terms, which shows how PAV properties can provide more precise attributions. Equally important, PAV derivation properties distinguish between plain retrieval, versioned updates, transformational imports, and more structural derivation. These distinctions are essential for attributing resources in the complex real world of curated knowledge bases and datasets, and PAV has been adapted for these purposes by representation models like Open PHACTS dataset descriptions, Nanopublications, Wf4Ever Research Objects and Elsevier's Satellite annotations.
We believe PAV is a good complement to existing provenance vocabularies, such as OPM and PROV-O. Indeed, use of such vocabularies often focus on describing the chain of activities that were performed to transform given resources into other resources, and the role of agents associated with those activities. In PAV, the emphasis is put on the provenance of the resources: PAV describes the lineage from other resources, and just as important, the role of agents involved with creating and maintaining the resource.
Declarations
Acknowledgements
We would like to thank Marco Ocana, Gwen Wong, Elizabeth Wu, and June Kinoshita for their input during the development of the SWAN ontology. We also would like to thank Paul Groth for helping us validate the mappings between PAV and the PROV model. We thank the Journal of Biomedical Semantics reviewers, who provided valuable feedback which led to further improvements of the ontology and this paper.
Stian Soiland-Reyes and Khalid Belhajjame are funded for the Wf4Ever project by the European Commission's 7th FWP FP7-ICT-2007-6 270192.
Alasdair Gray received support from the Innovative Medicines Initiative Joint Undertaking under grant agreement number 115191, resources of which are composed of financial contribution from the European Union's Seventh Framework Programme (FP7/2007- 2013) and EFPIA companies' in kind contribution.
Authors' Affiliations
(1)
Department of Neurology, Massachusetts General Hospital, Boston, USA
(2)
Harvard Medical School, Boston, USA
(3)
School of Computer Science, University of Manchester, Manchester, UK
Copyright
© Ciccarese et al.; licensee BioMed Central Ltd. 2013
This article is published under license to BioMed Central Ltd. This is an open access article distributed under the terms of the Creative Commons Attribution License (http://creativecommons.org/licenses/by/2.0), which permits unrestricted use, distribution, and reproduction in any medium, provided the original work is properly cited.